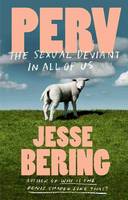 After reading a review of Perv in The Press' Your Weekend magazine I was very intrigued. Jesse Bering is a science communication professor at Otago University so this book is looking at perversions from a scientific perspective - not a moral one.
Many thanks to Word Christchurch for giving me the opportunity to get out of my comfort zone and sit right up the front of the fascinated crowd. The topic is an uncomfortable one for even the most open-minded of us but he gave the talk with such grace and humility even when heckled by a couple of audience members.
But surely this is what it's all about: having the conversation. Looking at our own desires and the desires of others and seeing them as just that, without judgement.
Unfortunately I'm still on the holds list for this book but I hear he writes in a humorous way. Phew! That will make the subject a little more relaxed reading!