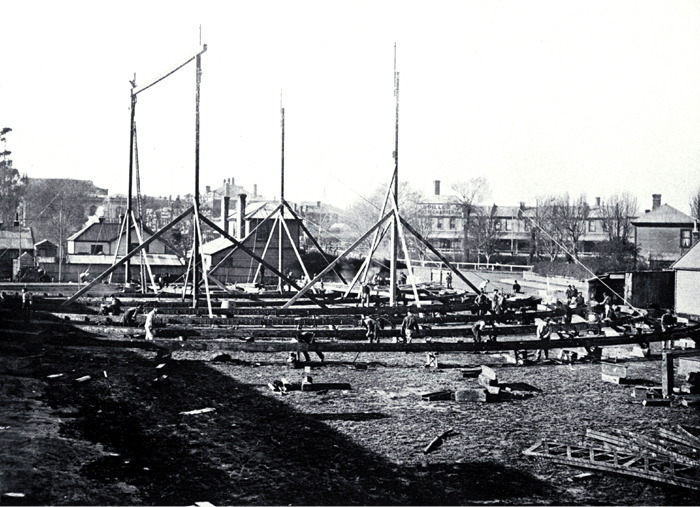 The building of the King Edward Barracks, which are to replace the old drillshed destroyed by fire, has now fairly commenced. The drillshed will consist of a large arched building (of one span with no posts) 120 ft wide, 300 ft long and 40 ft high. Twenty-one iron girders, each six tons, will be used in the construction, and our picture shows several of them on the ground ready to be erected. In addition to the drillshed there will be a Mobilisation Store, built in brick. The store will be 128 ft long and 30 ft wide and will consist of two storeys; the contract price for the whole being £7500. The contractors and architects are Messrs Luttrell Bros of Christchurch and they expect to establish a colonial record in the matter of the building, by completing the contract by the first week in August.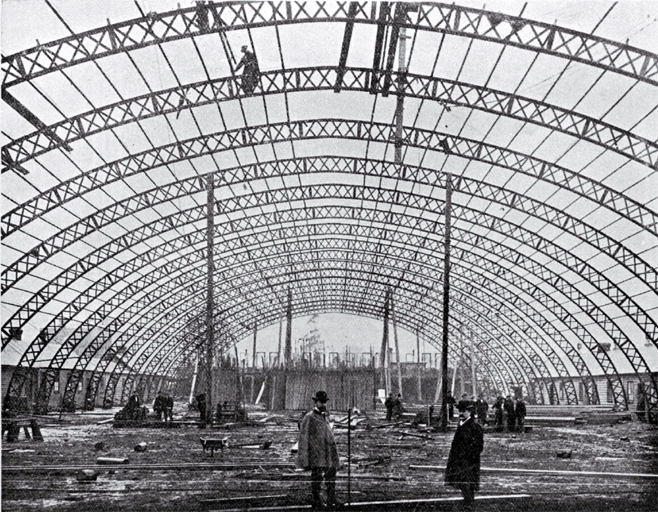 This photograph shows the army barracks under construction in 1905. Sidney Luttrell (1872-1932), who is pictured in the right foreground with his brother Alfred on the left, designed 21 latticed, curved steel girders to span the 36.5m width as economically as possible and to support the curved, corrugated iron roof. The girders, constructed by Scott Brothers, each weighed six tonnes. Twenty-five working days after it was begun the building was complete and opened on 26 July 1905.

It was used for drilling soldiers and later for civic functions and social occasions until the army withdrew in 1993 and the site was purchased by Ngai Tahu. The building was transported to Hornby where it was re-erected as a distribution warehouse in 2000 (only about three quarters of it was reused ).
Samuel Heath Head
Motor show at King Edward Barracks, Christchurch, between 1921 and 1925
Reference No. 1/1-007232-G
Photographic Archive, Alexander Turnbull Library, National Library of New Zealand
Building The King Edward Barracks, Christchurch

King Edward Barracks, Corner Of Cashel And Montreal Streets, Christchurch