Christchurch City Libraries celebrated NZ Music Month in May with free music events at our libraries and a competition to win great prizes, including a Logitech Ultimate Ears Boom, and two Logitech Ultimate Ears Mini Booms.
Find out about what we are doing for NZ Music Month 2015.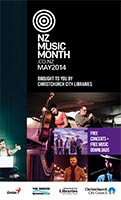 We were proud to partner with The Breeze for New Zealand Music Month 2014. Tune into The Breeze on 94.5FM.
We also offered a 30% discount on CD loans during May.
Events in libraries
Launch party
Headline performances
Competition
Our NZ Music Month Events
Launch party Thursday 1 May 2014
Our NZ Music Month launch event took place at New Brighton Library from 7pm. Performers included:
Marlon Williams
At just 23, Williams has been nominated for 2 NZ Music Awards and 3 APRA music awards, recently winning the 2013 NZ Country Album of the Year and APRA Country Song of the Year. As frontman for acclaimed alt-country act The Unfaithful Ways and half of an award-winning duo with Delaney Davidson, Williams has proven himself to be a prolific songwriter and touring artist.
Silencio
Silencio was founded in 2004; they are a contemporary music ensemble made up of jazz and classical musicians. Their members, ever changing, are always on the lookout for new and unconventional instruments. Tom Phillpotts, the ensemble's electronics musician, recently played a number of concerts with a laundry tub and an old cello bow. Silencio are musical pioneers, constantly discovering new sounds beyond the constraints of traditional instruments.
Nomad - AKA Aasha, Will & Cullen
This alt-folk band from Shirley Boys' High School is made up of Aasha Mallard (banjo), Will McGillivray (acoustic guitar and kick drum) and Cullen Kiesanowski (double bass). After only a year of playing together, they were named finalists of the 2013 Smokefreerockquest. The sky is definitely the limit for these guys.
Headline performances
Win great prizes
Our New Zealand Music Month competition included nine great prizes:
One Logitech Ultimate Ears Boom RRP $299
Two Logitech Ultimate Ears Mini Booms RRP $129 each
Six Genius HS-M250s - Luxury Mobile Headsets RRP $30 each
There were three ways to enter:
Congratulations to our NZ Music Month winners!
The winners were:
Logitech Ultimate Ears Boom: Sabina Erickson
Logitech Ultimate Ears Mini Boom: Christine Le Beau
Genius HS-M250s Luxury Mobile Headsets: Tyron Oldroyd, Tania Palmer, KerryAnn Murphy, Patrick McSoriley, Renee Gilfedder, and Hudson Cruz.