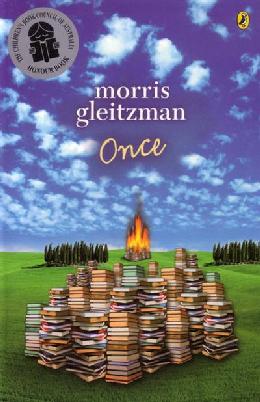 Morris Gleitzman is the only author at this year's Auckland Writers Festival to have interviewed themselves. Whether it was planned this way or not, Morris Gleitzman spent his session on stage talking just to the audience, rather than an interviewer. He is a great speaker and talked to his audience for almost the full hour, telling us about his books and his strong connections to his characters.
Morris describes writing as 'a collaboration with the main characters,' who can be a boy or a girl that are facing the biggest problem that they have in their life. He became known for books that have humour and warmth with a silly surface, but this changed over the last 10 years. The surface of his books have changed and now have are much more serious.
My favourite books by Morris are the Once series (Once, Then, Now, and After) about a boy called Felix, set in Poland during and after the Second World War. With this series he didn't set out to write about war, but about friendship. Morris says that the danger about writing about friendship is that the story can seem too cosy and too feel-good. He decided to put friendship to the test by surrounding his characters with the most unfriendly behaviour - war.
It took him many years of research to write these books but he still had trepidation because he was aware of the feeling among many people of 'if you weren't there, don't go there.' He has jumped around in the timeline of Felix's story when writing it (from during the war to the end, forward to when Felix is 80, then back to just after the war), but he hasn't finished telling Felix's story yet. The next book in the series, Soon (coming later in the year), is about Felix picking himself up when he thought he could give a huge sigh of relief. He needs to reconnect to the optimism that has gotten him this far.  After writing Soon, Morris realized that he couldn't leave Felix quite yet, especially after he has been a part of his life for so long.
Morris plans on writing a total of 7 books in the series before he lets Felix go completely.  For this I am incredibly thankful to Morris Gleitzman as I have been hugely touched by Felix's story and don't want to let him go either.
Morris also talked about his latest book, Loyal Creatures, which is about the men and horses of the Australian Light Horse brigade during World War One. The book started off as a play that Michael Morpurgo asked him to write to accompany the stage show of his books War Horse when it toured Australia. The story sounds incredible and I will be hunting it out at my library when I'm back in Christchurch.
Morris' next book will be serious but with a much more comedic surface. Apparently it is going to be a book for younger readers about wine, possibly called Plonk. He hinted that when he tours this book it could be accompanied by wine tasting. I'll look forward to reading it when it shows up on our library shelves some time soon.
Morris Gleitzman, signing up a storm. #awf15 ^DR pic.twitter.com/5OYXPFbAHf

— ChChCityLibraries (@ChristchurchLib) May 16, 2015