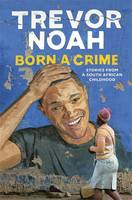 South African born comedian Trevor Noah is a terrific talker - let there be no doubt about that. But can he write? Well here's our chance to find out with his hot-off-the press biography Born a Crime.
Not the first sentence in the book, but right near the start of Chapter 1, is the following sentence:
I was nine years old when my mother threw me out of a moving car.
And the book careens onward from there. It is hilarious, heart-warming, revealing, educational, embarrassing (if you were born white in South Africa when I was), and yes, it is extremely well written.
Trevor Noah is worshipped in South Africa and by South Africans worldwide (I attended one of his shows in Christchurch a couple of years ago). On my recent SA holiday, all over Cape Town and Durban I saw people of all shapes, sizes, ages, colours and genders wearing Trevor Noah Born a Crime Tees. There were even a smattering of Trevor Noah for President shirts - and it is my one holiday regret that I did not buy one!
But he is also internationally known as the host of the award winning Daily Show, and now has his home in New York. If you are one of the few souls yet to hear him at his best, have a listen to this clip on airport announcements. Straight after that you might like to make a list of all the people who would love to find this book in their Christmas stocking, here's mine:
Mothers and sons - Noah is at his best when he is on this topic;
People who love biographies of the Poor Boy Makes Good ilk'
People who thought they understood South African politics (pause here for hysterical laughter);
South Africans everywhere;
People who like a good laugh - and that's pretty much all of us.
But, it's not really a book review if you just love everything, so I have to confide that I hate the title Born A Crime which I don't believe does the book any favours. Even though Noah references the title on page 26, it just doesn't work for me.
So, in answer to the question "Can Trevor Noah write?" The answer is a resounding "Yes". Trevor Noah can indeed walk the talk!
Born a Crime
by Trevor Noah
Published by Hachette New Zealand
ISBN: 9781473635289