Try first
Commonwealth War Graves Commission
This excellent and easily searchable site includes detailed information about those killed in war. The register includes name, nationality, rank, regiment, unit, date of death, age, service number and the cemetery where the person is buried. Some entries include names and addresses of next-of-kin. There are detailed descriptions of the cemetery sites and their history, including photographs of the relevant gravestone.
The Cenotaph Database
A database compiled by the Auckland Museum which aims to list all those who served in war, from the New Zealand Wars until the present. The data which is currently available comprises those service personnel who were killed during war.
Other sources
New Zealand Expeditionary Force casualties, WWI [microfiche]
The names of the dead, wounded or missing are listed in these fiche, in chronological order, and under each regiment. There is an index. Details given include name, rank, regiment, date of death, wounding or missing in action. It is not nearly as easy to search as other sources, but covers a wider range of casualties.
New Zealand. Registrar-General's Office. Birth, death and marriage microfiche indexes: war deaths, 1914-1918
An index to registered deaths. The microfiche list the name of the dead person and the registration number which can be used to order a copy of the death certificate from the Registrar-General's Office. The list includes nurses who died during the war.
New Zealand Expeditionary Force: roll of honour
List of casualties, with full name, unit, rank, regimental number, date, cause and place of death. Includes those who died of wounds after discharge from the services.
Church, C. New Zealand graves at Brockenhurst
Detailed biographies of the 93 soldiers buried at the New Zealand military hospital at Brockenhurst in England. Also includes section on the major theatres of war and on major battles, with excellent maps of battle sites (pp. 18-31).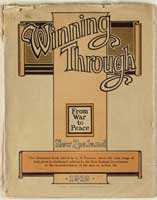 Fanning, L. S. (ed) Winning through from war to peace : New Zealand, 1919
This illustrated book shows the wide range of help given to discharged soldiers by the New Zealand Government in the re-establishment of the men in civilian life. Includes sections on Help for Body and Mind, Hospitals and Homes, and Curative and Vocational Work.
Kelly, M.J.(ed.) Casualties, Otago Witness, 1915
Newspaper reports on Otago casualties. Indexed.
Martyn, E.W. For your tomorrow: a record of New Zealanders who died while serving with the Royal New Zealand Air Force and allied services since 1915
For further information, you can also check the libraries' catalogue: World War, 1914-1918 Registers of dead, New Zealand
Web sites
The after care of disabled soldiers
Information and photos from Te Papa on the treatment and care of disabled soldiers.