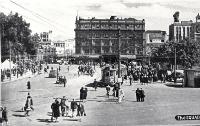 Trams as a means of City transport first appeared in Christchurch in 1880 with the opening of the first steam tram lines from Cathedral Square to the railway station. Private companies built lines radiating out from the City centre and in 1903 the Christchurch Tramway Board was established to take over the companies and electrify the system. In its hey day, in the 1920s, the Christchurch electric tramway system was the largest in the country. By the end of World War II however, the tramway system was worn out and the decision was ultimately made to close it down and replace trams with an all diesel bus fleet. The last trams ran in 1954 and the Tramway Board's successor, the Christchurch Transport Board, continued to operate the City bus system until deregulation in 1991.
In February 1995, just over 40 years after the tramway system closed, trams again began operating in the streets of Christchurch along a 21/2 kilometre route using original vehicles ex Christchurch, Dunedin and Melbourne. The Council constructed the line, initially as part of the Worcester Boulevard project, leased the initial fleet of vehicles from the Tramway Historical Society, and granted a licence to operate the tramway to Christchurch Tramway Limited, a subsidiary of Shotover Jet Limited. Two years on, the tramway has become one of the symbols of Christchurch and a popular attraction for tourists and locals alike.
More information
Sources
This was originally derived from the Christchurch City Council handbook of 1998.