A guide to information on New Zealand's conscientious objectors during World War One.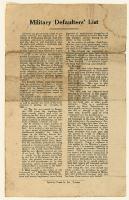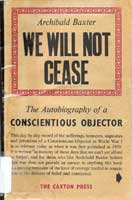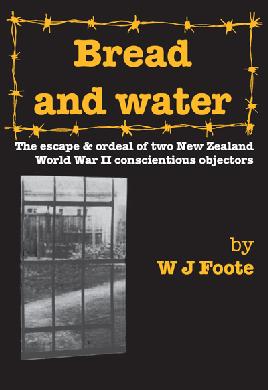 Baker, P. King and country call: New Zealanders, conscription and the Great War, 1988
Ch. 3: Conscription opposed, including pacifists and anti-militarists;
Ch. 7: Conscription resisted, including objectors and their treatment, defaulters and deserters, Maoris and aliens;
Appendix 3: Denomination and nature of appeal of imprisoned objectors;
Appendix 4: Defaulters, by occupational category.
Baxter, A. We will not cease: a  New Zealand classic, 2003 (first published 1939)
Author, the father of poet James K. Baxter, is the best known New Zealand conscientious objector of World War 1.
Grant, D. Field punishment no. 1: Archibald Baxter, Mark Briggs & New Zealand's anti-militarist tradition, 2008
Ch. 1: War and conscription;
Ch. 2: Resistance;
Ch. 3: Archibald Baxter;
Ch. 4: Mark Briggs;
Ch. 5: What it all means;
Ch. 6: The tide turns. Also includes poems of protest and paintings by Bob Kerr.
Howard, Edwin Seditious prisoners and conscientious objectors fund
A history and accounting of the fund, which was set up in December 1916, to provide for objectors arrested under the War Regulations.
Kelly, M. J. Military Board appeals, Otago Witness, Dec. 1916 to Feb. 1917, 1993
Photocopies of newspaper reports of hearings by the Otago Military Service Board for those called to serve in the army.
Military Defaulters' List, 1919?
National Peace Council of New Zealand pamphlet, alerting electors to consequences of repressive legislation affecting conscientious objectors. Does not include any personal names.
Military Defaulters List - Under Expeditionary Forces Amendment Act, 1918
An alphabetical list of defaulters was published in the New Zealand Gazette, 14 May 1919. Access the New Zealand Gazette Archive at any of our libraries.
New Zealand Army. First NZEF reserve & military defaulters – WW1, 1999
Includes lists of conscientious objectors.
Website
Conscientious objection in the First World War Information from New Zealand History online on various stands against the First World War.
Conscientious objectors research guide A comprehensive guide to using resources from National Library of New Zealand to research conscientious objectors, mainly focused on primary resources.
Voices against war About conscientious objection in WWI Canterbury.
For further information, search the catalogue: