Courage Day is the New Zealand name for The International Day of the Imprisoned Writer, which is celebrated throughout the world on 15 November. The day acknowledges and supports writers who resist oppression and defend the right to freedom of expression. The day also stands as a memorial to writers who have been killed because of their profession. It was started in 1981 by PEN, the international writers' organisation.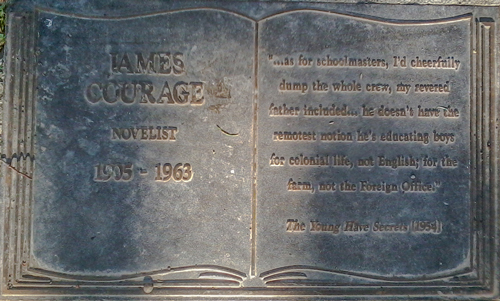 Courage Day named after James and Sarah Courage
The New Zealand Society of Authors, which is affiliated to PEN, named the event jointly after James Courage and his grandmother Sarah Courage.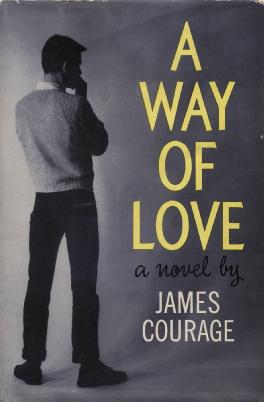 James was born in Amberley and went to school in Christchurch. He was a novelist and poet whose novel A Way of Love was banned because he dared to express homosexuality in his writing prior to the setting up of the Indecent Publications Tribunal in 1964. He has a plaque on the Christchurch Writers' Trail outside his old school, Christ's College. Sarah's book describing colonial life in New Zealand was instead burned by neighbours who resented comments she made about them.
As Heather Hapeta, previous chair of the Canterbury branch of the New Zealand Society of Authors, writes, this New Zealand name of Courage is also appropriate because of the bravery required by those authors who face opposition in its many forms.
See also:
Banned books in New Zealand
In New Zealand the Office of Film and Literature Classification is responsible for the management of restricted publications, including in libraries and schools. The website includes a brief history of censorship in New Zealand.
The Library and Information Association of New Zealand Aotearoa has a statement on Intellectual freedom [35KB PDF], stating in part that: No library materials should be censored, restricted...
Authors whose books have been banned, censored or suppressed in New Zealand include:
Her book Safe Marriage, a contraceptive manual for women, was banned in New Zealand in 1923.
The children's reader Washday at the Pa, which included photographs by Westra, was withdrawn from schools and pulped in the early sixties, because of its supposedly unflattering picture of Māori rural life.
Her novel The Butcher Shop was banned because of its supposed obscenity and detriment to New Zealand's immigration policy. (The Prime Minister's secretary, Frank David Thomson, received a telegram from London on 1 March 1926 reading: Instruct watch for new novel entitled 'Butchers Shop' by Jean Devanny Wellington lady Publishers Duckworth, London, alleged depiction station life New Zealand disgusting indecent communistic – Bert (London).)
Some of his first works were banned by the Māori Affairs Department, apparently because of his early communist affiliations.
Taylor, who has written numerous novels for children and young adults, is one of only a few New Zealanders who have had their work challenged in America - some libraries refused to put his title The Blue Lawn on their shelves, because of its forthright treatment of the sexual identity of the two main characters.
Dawe's young adult novel Into the River won the New Zealand Book Awards for Children and Young Adults Margaret Mahy Book of the Year in 2013. Complaints from members of the public about its inclusion of offensive language and sexual material led to the book being classified three times and placed under an 'interim restriction order' in September 2015. In October the book was classified as Unrestricted and the interim restriction order is no longer in force.
Read our blog Into the River – Unrestricted and the Book Case Study by the Office of Film and Literature Classification for more information.
Otago University had an exhibition in 2009/2010 entitled Heresy, sedition, obscenity: The book challenged with information and pictures about banned books in New Zealand and elsewhere.