This page connects you with poetry-related resources and organisations. It shows you how to find poetry in our collection, as well as resources on how to write and get it published.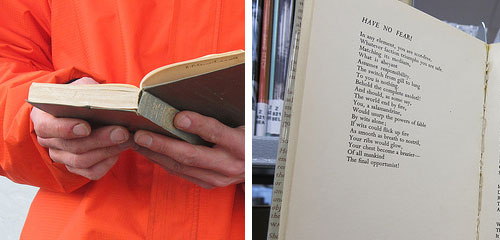 Find poetry in our collection
Poetry groups and events in Canterbury
Catalyst is a literary journal that publishes poetry, prose, fiction, experimental works, song lyrics, script/screenplay excerpts, as well as visual art and spoken word. It is produced by Neoismist Press in Lyttelton. It runs a 'Poetry Open Mic' every month.
Find out more about Catalyst
Like Catalyst on Facebook
Faultline Poetry Collective is a group of writers from Ōtautahi, Aotearoa, aiming to provide a platform for young voices to be shared.
Like Faultline Poetry Collective on Facebook
Listing from the New Zealand Poetry Society of Christchurch poetry events.
Poetica: The Christchurch Urban Poetry Project aims to bring poetry to the streets of Ōtautahi via visual art, installations, and public performance.  Like Poetica on Facebook.
Groups in Christchurch who get together to study, write and perform poetry. From CINCH.
Magazine that appears three times a year and publishes short stories, poetry and art by established and emerging writers and artists, as well as essays and interviews (by invitation), and book reviews in these related areas.
Like Takahē Magazine on Facebook.
New Zealand poets
Report from a 2017 WORD Christchurch event at the Christchurch Art Gallery.
Information about poet Denis Glover.
Auckland based poet Karlo Mila headed to Christchurch in September 2008. Read our interview with her and listen to her poem

Inside us the dead

.
An interview with poet/author James Norcliffe about writing poetry.
An interview with Christchurch poet Joanna Preston following the launch of The summer king.
About the poem by Allen Curnow narrated with incidental music by Douglas Lilburn.
Poetry resources
Electronic gateway to poetry resources in Aotearoa/New Zealand and the Pacific region. Based at the University of Auckland, it aims to coordinate existing archival and publishing information, and to present some full-text electronic publication of poetry and commentary in consultation with authors and their publishers.
Organisation advancing education by promoting, developing and supporting poetry and poets in New Zealand. Site includes links to New Zealand poetry journals, New Zealand and international writing resources, and an annual international poetry competition for both adults and young people.
Listen to contemporary poets reading their own work. Also included is a wealth of background material on each poet and some filmed interviews.
New Zealand poets and poetry fans get together on Twitter to share audiorecordings of poems.
Getting published
Information from the New Zealand Poetry Society.
Poetry posts
Browse the poetry related posts on the Christchurch City Libraries' blog.
Poetry photos
Poetry-related photos on Flickr.