Douglas Lilburn is considered to be New Zealand's foremost composer. He was born 2 November 1915, and died 6 June 2001.
He was raised on the family sheep station, Drysdale, in the central North Island, which he described as "a paradise to roam around in". As the youngest by some five years, he was often alone as his older siblings were at school. Douglas was sent to board at Waitaki Boys' High School which he did not enjoy. He did well academically however and in 1934 he came to Christchurch to study at Canterbury University College.
Lilburn said of his young self:
I was not born into a musical family and had no proper musical training before a late age of 17. But rather than regret this  I've always remained grateful for a childhood on a central North Island sheep station, a richly varied and potent human and natural context to shape a young imagination.'
He spent three years studying journalism and music and making the acquaintance of members of the flourishing local art scene. Denis Glover, Allen Curnow and D'Arcy Cresswell in particular became his friends. In 1936 he won first prize in a composition competition created by the Australian composer, Percy Grainger and this encouraged him to specialise in composition. He studied later at the Royal College of Music, London where he was tutored by Ralph Vaughan Williams. This was the beginning of a long friendship between the pair.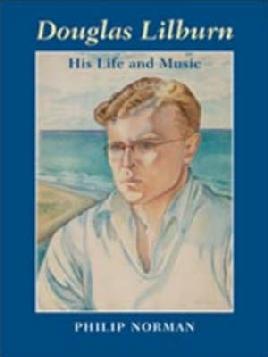 Like Vaughan Williams, Lilburn was intensely inspired by the beauty of nature, poetry and art, albeit that his works have a unique New Zealand perspective. As an industrious student under Vaughan Williams' patronage he made rapid progress writing several acclaimed works. These include the Drysdale Overture, a musical tribute to summer days on his parent's farm and the classic Aotearoa Overture which pays homage to the New Zealand landscape.
On his return home he moved to Christchurch and worked as a composer and teacher. During this time he was friends with poets Denis Glover, Allen Curnow, Alistair Campbell and the artist Rita Angus with whom he had a relationship. This group influenced Lilburn's work significantly, he drew on the poems of Glover and Curnow and the art of Rita Angus for three of his pieces. Together Curnow and Lilburn produced a New Zealand classic Landfall in Unknown Seas, the poem by Curnow narrated with incidental music by Lilburn.
Lilburn was passionate about his work and was aware that he was breaking new ground musically. He next moved to Wellington to teach at Victoria University and began composing electronic music. This led to him establishing the Electronic Music Studio at the University.
Around this time he also completed a succession of works including Elegy and Symphony no.2 which were received enthusiastically. His ultimate benevolent gesture was to leave his home of 40 years to the Lilburn Residence Trust which he set up earlier to benefit New Zealand music. The house is primarily used as a residence for composers.
The main auditorium of the Christchurch Town Hall is named in his honour.
Douglas Gordon Lilburn (ONZ) – Always known to his friends and family as Gordon, was a gifted, generous, high achiever and a recipient of many accolades in his lifetime:
Douglas's contribution to New Zealand music is too valuable to ignore, too important to forget.
More on Douglas Lilburn