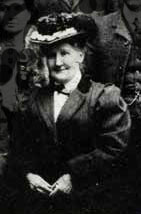 Elizabeth Gard'ner was the founding superintendent of the School of Domestic Instruction in Lichfield Street. She was also a member of the Home Industries Committee, one of the organising committees of the 1906 New Zealand International Exhibition.
Origins and career
She was born Elizabeth Anne Milne in 1858 in Sweden, but educated largely in England. In 1880, she married English–born engineer Richard Gard'ner. The couple travelled to Australia and then New Zealand, where Richard became involved in railway projects.
When Richard's health deteriorated, Mrs Gard'ner stepped up to be the family breadwinner. In 1895 she became the superintendent of the School of Domestic Instruction. It was initiated when the Canterbury Women's Institute proposed that the teaching of domestic science would enable women and girls to thoroughly prepare their daughters or themselves for household duties as mistresses or maids.1
Her husband died in 1898.
The School of Domestic Instruction
The school, which occupied a building on the corner of Manchester and Worcester Streets, was a pioneering organisation in the field of home economics teaching. It struggled financially in its early years, and was criticised by many. However with the unwavering support of its managing committee (whose membership included Kate Baldwin) and with the skilled and capable management2 of Mrs Gard'ner, it became one of the finest educational institutions in Christchurch.3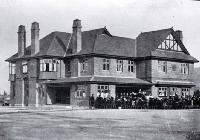 In 1907, the school formed the domestic science department of the newly opened Christchurch Technical College, with Mrs Gard'ner as its head. The school offered two to three year day courses for girls aged 13 and over, who were preparing either to manage a household or to enter domestic service employment.
There were evening classes for girls in business to prepare them for domestic duties. Both courses included English, arithmetic, cookery, needlework, millinery, dressmaking, and laundry work, and the day course also covered account-keeping, hygiene, and the science of common life – a study of the scientific principles underlying cookery.
There were also elementary cookery classes for young men preparing for up-country life,4that is, for camping trips, and advanced classes for the training of cookery teachers. Mrs Gard'ner instructed in cookery and kitchen economics, and supervised an ever-expanding staff for other aspects of the course. In 1913, a girls' hostel was opened for female students.
Her life's work
The creation and development of the school became Mrs Gard'ner's life's work. By the time of her death in 1926, her name had become a household word, not just in Christchurch but throughout New Zealand.
Elizabeth Gard'ner is buried in the cemetery at Holy Trinity Church, Avonside.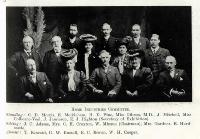 Footnotes
1 Prospectus, Christchurch Technical College, 1909
2."Mrs Gard'ner's death", The Press, 7 June 1926, p 2
3."Mrs Gard'ner's death", The Press, 7 June 1926, p 2
4. Prospectus, Christchurch Technical College, 1909
Sources
Prospectus, Christchurch Technical College, 1909
The cyclopedia of New Zealand : industrial, descriptive, historical, biographical facts, figures, illustrations, Vol 3, pt 1. p 230
"Mrs Gard'ner's death", The Press, 7 June 1926, p 2
Taylor, Leah. Gard'ner, Elizabeth Anne 1858 – 1926. Dictionary of New Zealand Biography