Christchurch and Canterbury Tombstone Transcripts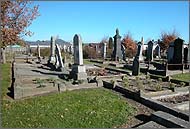 The New Zealand Society of Genealogists has created many tombstone transcripts since the 1970s. They are a record of what the Genealogical Society found on a certain date:
If gravestones have been erected since the date of the transcript, there will be no reference in the transcript.
If there is no tombstone, there will be no reference in a tombstone transcript.
If the memorial has been destroyed by weather, age or vandalism, a gravestone which appears in a transcript will not be found.
If a person is known to be buried in a certain graveyard and there is no reference to a headstone, there may have never been one or it may have fallen into decay. A gravestone could also have been erected by relatives after the transcript was compiled.
People can be mentioned on tombstones when they are actually buried elsewhere. Soldiers mentioned on family tombstones may lie in the country where they died.
Tombstone transcriptions databases (available on Family History PCs at Tūranga, Fendalton, Shirley, Te Hāpua: Halswell Centre and Upper Riccarton Libraries)
Headstone transcriptions, cemetery information and photos for the Memorial Park, Ruru and Waimairi cemeteries.
Headstone transcriptions, cemetery information and photos for the Belfast Cemetery.
Other transcripts
Tuakiri | Identity, Level 2, Tūranga, also holds bound volumes of transcripts for cemeteries within the Christchurch City Council area and, to a lesser extent, for other parts of Canterbury. There are also transcripts for two Dunedin cemeteries and for the Symonds Street cemetery in Auckland.
List of cemeteries for which transcripts are held.
Some transcripts are for council-owned or public cemeteries, while others are for cemeteries associated with churches. Usually it is the Anglican Church which has burial grounds associated with its churches.
Most tombstone transcripts are for cemeteries established in the 19th and very early 20th centuries. The transcript for the Ruru Lawn Cemetery has entries 1941-2001.
A number of councils have now placed cemeteries information on the internet.
Using the transcripts
In some transcripts only basic information appears. In others transcribers have included all details.
The Master Index volume is an alphabetical list of surnames giving the cemeteries where people of a particular surname are buried.
The plot and lot numbers in tombstone transcripts have been devised by the Genealogical Society and are unofficial finding aids. They bear no relation to the plot and lot numbers devised by those churches and local authorities which manage the cemeteries. Maps showing these unofficial plot and lot numbers appear in the front of each volume of transcripts, while those for the public cemeteries are also available from the Christchurch City Council website.