Fendalton memories — Joan Dunkley
In 1998, a long-time resident of Fendalton, Miss Joan Dunkley, recalled growing up in Fendalton. Her reminiscences are supplemented by information in published sources. Miss Dunkley died in 2006.
Early life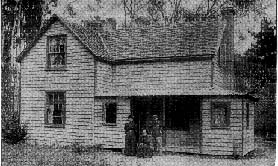 Born in 1914, Joan Dunkley lived in Palmerston North until she was seven. Her family then moved to Christchurch where her father, Walter William Dunkley (1881?-1957), was an accountant at John Burns & Co.
The family initially lived in Weka Street and, from 1928, at Ringloes, one of the original homes on Fendalton Road (from 1906, No. 89). This house was inherited from Joan's great-aunt, Fanny Worsley, née Dearden, (1850?-1927).
Ringloes, her original family home
Ringloes was a simple wooden home of the type built all over New Zealand in the colonial period. The property was large, surrounded by bush, the river and a croquet lawn. Inside there was a very steep staircase and upstairs a sloping roof. Later the house was extended and a verandah added, but it was demolished in the early 1960s.
The Dearden family, original owners of Ringloes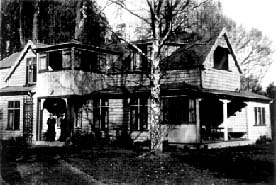 The Dearden family emigrated from Rochdale, England where they had been Lords of the Manor since the 15th century.
Joan Dunkley believed Robert Peregrine Dearden (1848-1918) had emigrated to New Zealand on the ship Mermaid in 1867 but he does not appear as either a cabin or assisted passenger in passenger lists for this voyage.
However, other Dearden family members are listed as cabin passengers on that sailing: Edith, Fanny, Madeline and Amy Dearden. They were the daughters of Henry Dearden (b. 1805) and his wife. Both had died and a bachelor uncle was unable to cope, so the girls were sent to New Zealand.
Edith Dearden married widower Henry Matson (1814-1885) in 1867.
Fanny married widower Henry Theophilus Worsley (1834?-1898) at St Barnabas' Church, Fendalton, in 1884. His father, Henry Francis Worsley (1807-1876), had purchased Rural Section 143: "50 acres in the Christchurch district, on the bend of the river Wairarapa, bounded on the south by section 80, on the west by No. 18, and on the north and east by the Wairarapa river road, and numbered 143 on the chief survey's map". See Rural Sections chosen, The Lyttelton Times, 3 May 1851, p 3.
Henry Theophilus Worsley's son from his first marriage was Frank Worsley who had gone from being dux of Fendalton School in 1887 to exploring the Antarctic with Sir Ernest Shackleton. In the early days, there were three big walnut trees along the driveway into No. 89. Every new child in the family would have their initials carved into the tree. Frank Worsley's initials have been preserved on a piece of bark saved when the rotting trees were felled.
Madeline (1849?-1936) remained unmarried and lived over the stream at 89A Fendalton Road. She was something of a character, driving a pony-cart and wearing a porkpie hat and Norfolk jacket with a long skirt. Sometimes she was asked "Are you a man or a woman?" She was never in paid employment but spent her time growing vast quantities of vegetables.
Amy (1852?-1924) married Charles Edward Maurice Meares in 1873.
Their brother, Charles Farrand Dearden (1841-1863), had earlier been third officer on the 

Mermaid

. He had died on board the ship at Lyttelton.
Bryndwr and the Jeffreys family
Charles Alured Jeffreys (1821-1904), who emigrated to Canterbury from Wales in 1853, was Joan Dunkley's great-great uncle. He had married Clara Ellen Parr, daughter of Thomas Parr, in 1851, and had been given land in Canterbury by his father-in-law as part of the marriage settlement. Jeffreys named his farm Bryndwr meaning "on the brink of the water" as there was a creek a good part of the way around it. He soon split up the land, giving the roads Welsh names. The Welsh theme is carried further than just street names: Garthmore, another Welsh name, at 142 Fendalton Road was built on Jeffreys'/Meares' land. Jeffreys returned to Wales on inheriting Glandyfi Castle.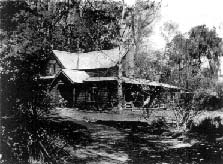 Dol-llys and the Meares family
The Jeffreys' original home was later inherited by Charles and Amy Meares and named Dol-llys. It was built at what is now 32C Glandovey Road and named after Charles' birthplace, Dol-llys, in Wales. The first house, built in 1854, was burnt down and a new house — largely of matai — was built in the 1870s. A second storey was added in the early 1900s. The house was eventually shifted to the rear of the section to allow for subdivision. The house remained in Meares family ownership until November 1981 when it was sold at auction.
Joan Dunkley's mother, Catherine Aston "Kitty" Meares (1881-1964) was brought up in this house, and Joan recalls her talking about the domestic staff. The washerwoman walked from Sydenham and collected firewood from the riverbank and water from the Wairarapa Stream to do the washing. She spent two nights with her employers and then walked back to Sydenham. Kitty and her sister, Sylvia, took turns to sleep in her bed as a treat.
Childhood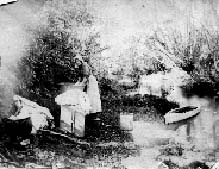 Joan Dunkley enjoyed a happy childhood at Ringloes. It was a busy household with people coming and going. There was a large kitchen with a coal range and walk-in larder, and a girl came every morning for the heavy work. The family travelled by pony trap until they bought a Crossley motor car in 1928.
For two years, Joan walked to Fendalton School where the headmaster was Ray Blank. There was no uniform but most of the girls wore a navy serge skirt and white blouse. Later, Joan caught the tram at the terminus outside Lismore Lodge at 48 Fendalton Road, travelled to Rossall Street and walked on to Rangi Ruru Girls' School in Hewitts Road.
Joan left school at 17 and, like many women of her time, stayed at home. Occasionally she helped a dentist uncle at his surgery; later she took a secretarial course. At this time (early 1930s) Joan recalls everyone automatically took up smoking when they left school. A visit to England with her parents followed and when war came in 1939, she joined the air force.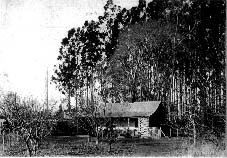 Daresbury, 67 Fendalton Road
Joan Dunkley recalled the blue gum trees that grew at Daresbury; they can be seen in the photograph (left) of Madeline's cottage. George Humphries (1848?-1934), a wine and spirit merchant, looked after the 100 trees, thought to have been planted by Jane Deans, and encouraged the many rooks that roosted in them. For many years the house was known as Darebury Rookery. The trees were later attacked by the gum tree gall chalcid, a small wasp-like insect, and the rooks left in the mid-1930s. Ladybirds were imported in an effort to improve the situation but to no avail. The trees, which had been a Fendalton landmark, died; the last one was felled in 1952. Twenty sections were surveyed from the 11-acre (4.45Ha) property and sold at auction in 1954.
Joan later built herself a home on the site of Madeline Dearden's cottage. She died in 2006.
Acknowledgement
Miss Joan Dunkley (1914-2006)
Sources
"Shipping News", The Lyttelton Times, 13 December 1851, p 5
Province of Canterbury, New Zealand : list of sections purchased to April 30 1863, p pp 4, 5, 11, 13, 15
"Passenger List", Wellington Independent, 14 February 1863, p 2
"Shipping" The Lyttelton Times, 7 January 1867, p 2
"Death", West Coast Times, 18 August 1876, p 2
"Marriage", Star, 27 October 1884, p 2
"Deaths", Star, 17 February 1898, p 2
"Old trees felled in Fendalton", The Press, 29 April 1952, p 5
"20 sections from fine "Daresbury" property", The Press, 14 September 1954, p 10
"Sale notice", The Press, 7 November 1981, p 52