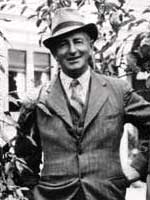 Ray Blank was well known in Christchurch as a teacher, a sportsman and a county councillor.
Golf and other sporting interests
Golf was Blank's favourite sport, and he was the winner of a number of Canterbury golf titles. A president of the New Zealand Golf Association, Blank was involved in the design and development of several Christchurch golf courses. In 1923 he designed and laid out the Harewood Club course. Other club courses he designed included Waimairi, Waitikiri and Windsor.
He was involved in rugby and cricket as a player and administrator, rowed for the Canterbury club, founded the Ascot Tennis Club in New Brighton and founded the Canterbury Surf Life Saving Association and the Waimairi and North Beach surf life saving clubs.
Career

Ray Blank Park
Home to Christchurch's annual Culture Galore multicultural festival, Ray Blank Park is located on Maidstone Road.
The five-hectare park has sports grounds and a children's play area.
Created by the Waimairi County Council in 1962 as part of its Maidstone Road subdivision, the park was named after Ray Blank in recognition of his long service as a member of the Waimairi County Council.
Blank was the headmaster of Fendalton School from 1922 until 1949. During his time the school opened the first "open air" classrooms in New Zealand. These classrooms featured much larger windows for more light and ventilation, and French doors opening to the playground.
Ray Blank was a member of the Waimairi District Council from 1953 to 1962. He was county chairman for a term and chairman of the Works Committee for many years.
His passion for recreation and sport led to a number of park developments - including Jellie Park and Burnside Park.
Honours
Blank became a Member of the Order of the British Empire (MBE) in 1953 for services to education. Ray Blank Park on Maidstone Road was also named in his honour.
Sources
Waimairi County Council: Mr Blank to retire as chairman, The Press, 28 November 1960, p. 17
Retiring Waimairi councillors, The Press, 10 October 1962, p. 17
Mr A. R. Blank noted teacher, athlete, dies, Obituary, Christchurch Star, 14 May 1963, p. 19
Editorial: Mr A. R. Blank, The Press, 14 May 1963, p. 12
Further information