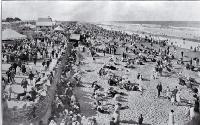 During the 1960s, New Brighton was Christchurch's only Saturday shopping centre. The proposal to close Seaview Road to traffic was first initiated in 1963, and after town planning, traffic management and parking surveys were carried out in cooperation with the New Brighton District Business Association, the design for the mall by the City Council's Architect's Division was approved in 1974. Construction started in May 1977, and the Mall was officially opened by the Mayor, Sir Hamish Hay, on 25 February 1978.
The design features brick ring and railed planters, timber seating, drinking fountains, and a stage with overhead canopies. The paving consists of blacktop with ceramic tile inserts laid in diagonal and circular patterns.
The shops in Brighton Mall are serviced by off-street parking spaces, either publicly or privately-owned.
The Frank Gracie Memorial Fountain was completed in 1981.
The total cost of the mall project excluding the fountain was $408,000, of which $198,000 was for underground services. The finance was raised partly by loan and partly by creating a special rating area of the properties adjacent to the Mall.
The central area of New Brighton is currently under review for further redevelopment. In 2000 to 2003 there was some controversy over the proposed shortening of the Mall and the introduction of a slow road, part of the New Brighton Revitalisation project.
The 2010 / 2011 earthquakes have meant that many buildings within Brighton Mall have been demolished and the lots remain vacant.
Christchurch Pier
The new Christchurch Pier, located in New Brighton, was opened in November 1997. The Pier is a joint venture project between the local community and the City Council. At a cost of $4 million the pier is to act as a catalyst encouraging new development and interest in the New Brighton commercial area and foreshore.
Related pages
Sources
This was originally derived from the Christchurch City Council handbook of 1998.