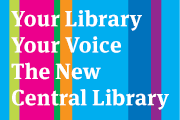 The Christchurch City Council is urging residents to make the most of a once in a lifetime chance to help design their NewCentral Library.Mayor Lianne Dalziel says today's launch of the Your Library, Your Voice campaign gives the people of Christchurch a unique opportunity to get involved in the New Central Library planned for Cathedral Square.
This truly is a legacy project for the city and community input is vital to ensure it meets our future needs.
We want people to tell us about their ideas and dreams for the new building; how it should look and feel, and what services it should provide. It's important that everyone contributes to this project, whether or not they are regular library users.
Residents can have a say online through quick polls and discussion forums at yourvoice.ccc.govt.nz, via special listening posts in City Council libraries, or by writing on ideas walls set up at schools and tertiary institutions.
Mayor Dalziel says public feedback from Share an Idea showed that the old Central Library was sorely missed.
We're looking for an inspiring world class civic building that fosters learning, creativity and community involvement.
The New Central Library will occupy a prominent site in Cathedral Square on the corner of Gloucester and Colombo Streets and is expected to open in 2017.
Libraries and Information Unit Manager Carolyn Robertson is delighted Architectus, one of New Zealand's most awarded architectural companies, will lead the project in association with Danish firm schmidt hammer lassen architects (note: all lower case), world experts in library design.
This is a major shift away from the traditional libraries of the past. Our vision is for a vibrant place that reflects the cultural diversity of our city and where everyone, regardless of age or background, feels welcome.
Your Library, Your Voice will run from Friday 21 March — Friday 2 May.
Please note
Information contained in media releases is correct at the time, but may change after publication. Please check the Library News page for latest updates about library services or contact us, ph: 9417923.