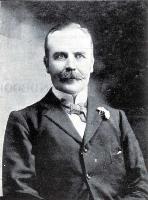 Local businessman Robert Allan was keenly interested in the growth and development of local industry in New Zealand. He was a founder member and the first president (1879-1881) of the Industrial Association of Canterbury and in 1895, he was elected a life member of the organisation. He presided over the first Christchurch industrial exhibition, held in the Drillshed in 1880, was on the committee of the 1883 exhibition, and was chairman of the Finance Committee for the 1895 exhibition. In 1900, he was president of both the Industrial Association and of the 1900 Jubilee Exhibition committee.
In November 1905, Robert Allan was appointed, along with G.S. Munro, Executive Commissioner for the New Zealand International Exhibition to be held in Christchurch the following year. His previous experience in running industrial exhibitions in the city made him an obvious choice. When the Exhibition regulations were passed in May 1906, Munro was named as chairman and Allan as vice-chairman of the commissioners. In August 1906, however, Allan resigned, citing ill health. According to the local press, his resignation was caused by Munro's tyrannical behaviour and his refusal to allow local committee members any say in decisions about the administration of the Exhibition. Mr Allan, they wrote, was at the end of his tether and, rather than continue to fight over every issue, simply withdrew from the fray. As he lived for another 20 years and reached the age of 81 years, Allan's "ill health" was clearly not a long term issue. With his level of experience in organising exhibitions, it would not be surprising if Allan found Munro's dictatorial approach extremely frustrating. Whatever the reason, he clearly decided in August that the Exhibition could go ahead without his further involvement. In any case, according to former mayor, C.M. Gray, his tact and experience had already assured the success of the project.
Robert Allan was born in Nelson in 1847. He and his family moved to Wellington and then in 1851 to Port Levy, settling in Lyttelton three years later. At the age of 15, Allan was apprenticed to the firm of J.T. Peacock and Co., and he remained with its successor, C.W. Turner until he established his own bootmaking business, Lightband, Allan and Co. in the 1870s. In 1889, Allan became a partner and director in the company Skelton, Frostick and Co. Ltd, boot and shoe manufacturers and importers, and grindery merchants. In 1895, his firm built in Hereford Street what was said to be the largest boot factory in the colony. The company manufactured Zealandia boots and its operations extended throughout New Zealand, from Whangarei to Riverton.
Allan was also involved in a variety of other business ventures. He was a director of the Kaiapoi Woollen Mills and of the Christchurch Steam and Tramway Company, a founder of the Terawera sawmill in Little River and he served on both the Lyttelton Harbour and the Heathcote Road Boards. A keen rower and sailor in his younger days, Allan was one of the earliest members and the first treasurer of Christchurch's Union Rowing Club. He had always owned rural land in Canterbury and later in life, he and his two sons became involved in various farming ventures, at Cattle Peaks in the Glenmark area, in North Auckland, Whangarei County and on the Wairoa River. Allan was staying at Nukatawhiti, his son's sheep station in Northland, at the time of his death, when his assets were valued at over £12,000.
Robert Allan married Martha Haswell Wood (1849-1926) in April 1869. Martha Allan was said in her obituary to have "an amiable and loving character which endeared her to all"1. The couple had 6 daughters and 2 sons, born between 1870 and 1890. Their younger son, Jack, was killed during the first world war. For many years the family lived in the house, Glenmore, in Opawa, until it was sold to a relation of Mrs Allan's in 1902. Mr and Mrs Allan were living at 104 Merivale Lane at the time of their deaths. They are buried in the Bromley Cemetery.
Footnotes
1 Obituary, The Press, 22 June 1926, pg. 2.
Sources
The cyclopedia of New Zealand : industrial, descriptive, historical, biographical facts, figures, illustrations, Vol. 3, pt. 2. pg. 319.
Obituary, The Press, 10 December 1927, p. 15.
Obituary, The Press, 22 June 1926, pg. 2.
Related pages