Brief history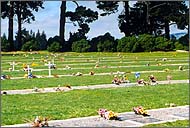 Ruru Lawn Cemetery opened in 1941. It covers 15.14 hectares and has granite and bronze plaques set at ground level. It has a large Returned Services Association section, and separate areas are set aside for different denominations.
The victims of the 1947 Ballantynes' fire are buried here and there is a memorial to them in the cemetery.
Memorials
Each rose in the garden has a bronze marker with the name of a person who lost their life in the Ballantynes' fire of 1947. The rear wall of the pergola has a marble plaque inset depicting the victims' names.
Memorial to the men and women of the armed services, who died during World War I and II but to whom the fortunes of war denied a known grave.
Notable graves of Ruru Lawn Cemetery
Those buried in Ruru Lawn Cemetery include:
John (Jack) Daniel Hinton, V.C.

This military hero was given a full military funeral. There was a 100-strong honour guard, a eulogy delivered by the Chief of Staff and Parliament observed a minute's silence.
Former Mayor of Christchurch. Labour politician Clyde Carr wrote that Sullivan would …

Probably be best and most gratefully remembered as Mayor of his native city, during that period of deep world depression which he and his colleagues turned to an occasion of bold and munificent civic administration, inspiring and leading the citizens to heights of generosity and self-sacrifice probably unexceeded in the history of this or any other country.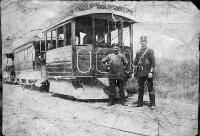 James was born at Halswell in 1859. He lived to the age of 102 and never left Canterbury.
As a young man, he drove a four-horse coach between Christchurch and Tai Tapu. When electric trams were introduced in 1905, Jimmy refused the job of driver and, instead, became a conductor.
In 1929 Tracy joined his brother, Edgar Charles, and Harry Hamer in the firm of Gough, Gough and Hamer, selling engineering and electrical appliances. Edgar and Harry left and set up their own business while Tracy continued to head the original firm.
Tracy lived at Mona Vale. In 1946, he gave four acres as a site for the Disabled Servicemen's Civil Re-establishment League Training Centre in Riccarton. He owned an excellent collection of Goldie's paintings.

Benjamin John Ager

Ager was the Christchurch architect who created landmark buildings like St Elmo Courts and the Victoria Mansions.
Read more about these Christchurch people in the Ruru Lawn Cemetery Tour Guide.
Related