Samoa Language Week - Vaiaso o le Gagana Samoa celebrates the third most spoken language in New Zealand. In 2019, it starts on Sunday 26 May. Samoan is spoken by over 3,700 people1 in Christchurch. This page highlights Samoan language resources and links to this year's events at Christchurch City Libraries.
Join us in celebrating Samoa Language Week.
Polokalame eseese o lo'o tutupu ile Vaiaso O le Gagana Samoa.
The Samoa Language Week theme for 2019 is:
'Lalaga le si'osi'omaga mo se lumana'i manuia'

'Weave an environment for a better future'.
Samoa Language Week 2019 at the library
Learn about the origins, designs and importance of Samoan tatau (tattoo) by designing your own temporary Taulima (tattoo armband).
Tatou fa'alogologo ma tepa i tua ile uiga moni ole Tatau fa'asamoa. A mae'a ona faia lea ose polokalame pu'upu'u lava, e fa'atinoina ai se taulima fa'asamoa mo oe lava.
All ages welcome.
Tūranga, Hapori | TSB Space, Level 1 Saturday 1 June, 12.30pm to 3pm
Subscribe to the Facebook event.
Join us to celebrate Sāmoan Language Week with stories, songs, rhymes and fun! O mai uma tamaiti ma matua, ia tatou fiafia fa'atasi e faitau ma fa'alogologo i tala ole Vaiaso ole Gagana Samoa!
Preschool and up.
Check our events calendar for dates, time and locations.
Come and celebrate Samoan Language Week with a free library tour and computer session. We will look at the latest Samoan
news, music and videos online. E mana'omia lo outou susū mai tatou fa'ailoa fa'atasi le Gagana Samoa ma fa'ata'ita'i i le fa'aaogaina o le Komeputa. E a'o'aoina ai le su'eina o tala fou, musika ma nisi mea aoga mai Samoa i luga le upega tafa'ilagi.
Tūranga, Computer Lab, Auahatanga | Creativity, Level 4 Wednesday 29 May, 1pm to 3pm
Faitauga Tusi / Samoan Storytimes at the library
Join in with our regular Faitauga Tusi / Samoan Storytimes at Tūranga on the last Saturday of the month, 1pm to 1.30pm.
Find Samoan resources in our collection
Samoan songs
Watch our wonderful colleagues Tai Sila and Jan-Hai Te Ratana perform some short Samoan songs:
Sit down
The Colour song
---
Listen to Sāmoan words
Tālofa - Hello
Tofa - Goodbye
Malo - Well done
Fa'afetai - Thank you
Fa'amolemole - Please
Samoan language resources for kids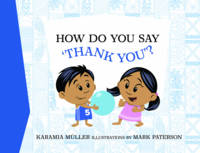 How do you say 'thank you'? Karamia Müller, J 499.462 MUL
Alofa and Filipo want to learn gagana Sāmoa so at bedtime they ask their parents how to say various things in the Sāmoan language.
Counting fish in Sāmoan and English Ahurewa Kahukura, J 499.462 KAH
Count from 1 to 20 in Sāmoan and English.
Learning transport in Sāmoan and English Ahurewa Kahukura, J 499.462 KAH
Introduces the Sāmoan words for different kinds of transport including cars, buses and space ships.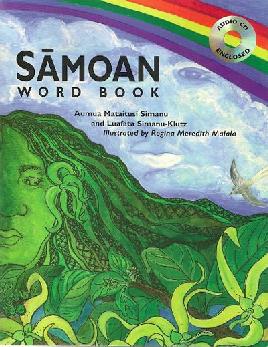 Sāmoan word book Aumua Mata'itusi Simanu Papali'i, 499.462 PAP
Features beautifully illustrated vocabulary words, a pronunciation guide, and a glossary. Word categories include family, home, school, the body, opposites, numbers, nature, and time. Illustrations by Regina Meredith Malala bring terms to life.
Teuila Festival: aso fa'ailogaina 'o le Teuila Fiti Leung Wai, J 899.462 LEU
Bilingual reader about music festivals.
Faitauga numera: counting numbers in Sāmoan and English Bettina Ikenasio-Thorpe, J 499.462 IKE
A colourful, clear book of counting numbers in Sāmoan and English.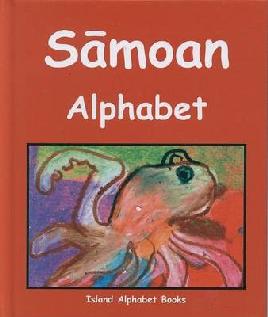 Sāmoan alphabet Lori Phillips, J 499.462 PHI
This book is part of the Island Alphabet Books series, which features languages and childrens' artwork from the U.S.-affiliated Pacific. Each hardcover book contains the complete alphabet for the language, four or five examples for each letter, and a word list with English translations. The series was co-published with Pacific Resources for Education and Learning, a non-profit corporation that works collaboratively with school systems to enhance education across the Pacific.
Taumafa Sāmoa J 899.462 TAU
Introduces children to the preparation of traditional Sāmoan foods.
Sāmoa John MacKinven, J 745 MCK
This book is a resource book of patterns from Sāmoa used on siapo and in weaving. These resources can be utilised as a starting point for drawing, painting and printing activities, using materials readily available in New Zealand.
More Samoan Language Week resources
Read Pasifika salutations on the Pacific Languages Week webpage, Ministry for Pacific Peoples.
Previous Samoan Language Weeks
Footnotes
1. Christchurch City Council, Age and Ethnicity, Census 2013, Statistics and Facts on Christchurch, accessed 16 May 2015