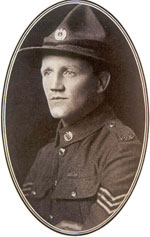 Henry Nicholas was the first soldier from the Canterbury Regiment to be awarded the Victoria Cross.
Early life
Henry Nicholas was born in Lincoln on 11 June 1891. After attending Christchurch Normal (in Cranmer Square) and Christchurch East schools, he apprenticed to a builder and became a carpenter, working in Australia for four years before returning to New Zealand to enlist. He had a reputation as a good sportsman, and was well known in New Zealand as an amateur boxer. At the time of his enlistment his parents – Richard and Hannah Nicholas – were living in Berry Street, St Albans. He was 26 and unmarried when he died.
Awarded the Victoria Cross
Nicholas was awarded the Victoria Cross following his bravery in action at Polderhoek (Belgium) on 3 December 1917. He was officially invested with the VC at Buckingham Palace by H. M. King George V in July 1918.
His citation reads:
Private Nicholas, who was one of a Lewis gun section, had orders to form a defensive flank to the right of the advance, which was checked by heavy machine-gun and rifle fire from an enemy strong-point. Whereupon, followed by the remainder of his section at an interval of about 25 yards, Private Nicholas rushed forward alone, shot the officer in command of the strong-point, and overcame the remainder of the garrison of sixteen with bombs and bayonets, capturing four wounded prisoners and a machine-gun. He captured this strong-point practically single-handed, and thereby saved many casualties. Subsequently, when the advance reached its limit, Private Nicholas collected ammunition under heavy machine-gun and rifle fire. His exceptional valour and coolness throughout the operations afforded an inspiring example to all.
Posthumous honours
Nicholas died in action on 23rd October 1918 aged 26. He was awarded the Military Medal posthumously for his bravery during the fight for the bridgeheads at the River Ecaillon near the village of Beaudignies on 23 October 1918, twelve days before the New Zealanders' capture of the town of Le Quesnoy.
He was buried with full military honours, on the 29th of October in the Vertigneul Churchyard, Romeries. Both of his medals are held by Canterbury Museum.
A memorial to Henry Nicholas was unveiled on Wednesday 7 March 2007 at the Park of Remembrance – northwest of the Bridge of Remembrance on Cambridge Terrace.
Sources
New Zealand and Le Quesnoy
Brief information from New Zealand History online.
David Ferguson, The History of the Canterbury Regiment, NZEF, 1914-19, 1921.
Sergeant Henry James Nicholas V.C. memorial unveiled
CCC Media Release, 28 February 2007.
The Victoria Cross. - Star, Issue 12215, 12 January 1918, p. 9
Nicholas, V.C. An impressive burial - Press, 18 January 1919, p. 9
Find out more about Sergeant Nicholas
Sergeant Henry James Nicholas V.C. M.M memorial
View our Flickr set of photos of the memorial overlooking the Bridge of Remembrance.
Casualty details Nicholas Henry James
New Zealand War Graves Project has details of war graves.
Quid non pro patria : the short, distinguished military life of Henry James Nicholas VC MM
by John H. Gray, also author of The New Zealand Division in France and Flanders, May 1916 to November 1918: a contemporary diary of pilgrimages in their footsteps April 2002 and July 2005
New Zealand. Army. Canterbury Regiment
Library holdings about this regiment.
Sergeant Henry James Nicholas,1st Battalion, The Canterbury Infantry Regiment
Audio from Ngā Tapuwae: First World War Trails
The First World War
New Zealanders in World War I
Our guide to sources of information about the men and women who served in New Zealand forces during the first World War.
Anzac Day 25 April
Anzac Day in New Zealand is held on 25 April each year to commemorate New Zealanders killed in war and to honour returned servicemen and women.
Armistice Day 11 November
The anniversary of the Armistice that ended the First World War (1914-1918) commemorates the sacrifice of those who died serving New Zealand in this and all wars and armed conflicts.
Medals