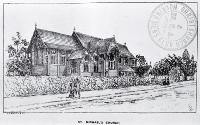 The Anglican church of St. Michael and All Angels stands on the site of the first church built by the Canterbury Association settlers on the Canterbury Plains in 1851. Today the site contains a number of historic buildings designed by leading Canterbury architects, which have survived the 2010 and 2011 earthquakes.
Design
The present church, the third on the site, was designed by W. F. Crisp and consecrated in 1872. The late Victorian-Gothic church is constructed entirely of matai (native black pine) and the outstanding timber interior of the church contains a significant collection of Victorian and Edwardian memorial stained glass windows by leading English stained glass firms of the day. A number of items contained in the church (such as the stone font), were brought to Christchurch in the first four ships in 1850. Few alterations have been made apart from the removal of a tie-beam and secondary arch in 1896 to improve the view of the east window. St. Michael's was the pro-Cathedral from 1856 until 1881 and remains one of the largest timber churches of its type in the world.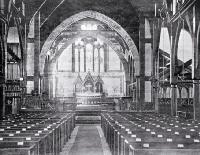 The belfry
A Christchurch landmark, the St. Michael's belfry was designed by pre-eminent Gothic Revival architect,Benjamin Woolfield Mountfort. Erected in 1861, the tower houses a bell brought out with the Canterbury Association settlers on one of the first four ships. The bell was the settlement's first time piece and was rung every hour of daylight. It is still rung for services today.
Surrounding buildings
Other historic buildings on the site include the Gothic Revival inspired school hall, designed by the first Education Board architect Thomas Cane in 1877, and the stone school building, Collegiate Gothic in style, which was designed by noted Canterbury architect Cecil Wood in 1913.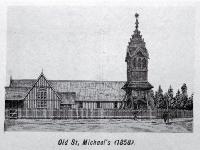 Earthquake survivor
The historic wooden church survived the Canterbury earthquake sequence of 2010-2011 almost unscathed and was for a period the only habitable church in use in the central city. The church's 1872 Bevington three-manual pipe organ was damaged in the 22 February 2011 earthquake and was subsequently removed for repairs and renovation.
The church is open to visitors. Please check the church website for opening hours.
More information
St Michael's and All Angels Church School
Related pages
Information for family history researchers and historians.
Internet Gateway listing of local archives, including church archives.
Information about Christchurch City Libraries' Church Registers resources.
Online Resources
Library Resources
Resources about Mountfort and his architectural designs in the Libraries' collection.
Resources about St Michael and All Angels Church in the Libraries' collection.

Search the Papers Index for newspaper stories

Stories about St. Michael's which appeared in The Press, The Christchurch Star and The Star.
Source
This was originally derived from the Christchurch City Council handbook of 1998.