Christchurch and surrounding areas have experienced major earthquakes since a 7.1 magnitude earthquake on 4 September 2010. The earthquakes have had a devastating effect on the central city and the people of Christchurch and surrounding areas.
See our pages for kids on the 4 September 2010 and 22 February 2011 earthquakes.
Since the ground shook - An online exhibition of photographs and information about the 2010 and 2011 earthquakes and their aftermath from Canterbury Stories
Saturday 4 September 2010
4:35am (NZ time), magnitude 7.1. Centred 40km west of Christchurch. Epicentre near Charing Cross, 10km south-east of Darfield at a depth of 11km.
Widespread damage occured, but no loss of life. Disruption to water, power and sewerage services.
Tuesday 22 February 2011
12:51pm (NZ time), magnitude 6.3. Centred 10km south-east of Christchurch at a depth of 5km.
185 people were killed and there was major damage to Christchurch land, buildings and infrastructure.
Monday 13 June 2011
2:20pm (NZ time), magnitude 6.3. Centred 10km south-east of Christchurch at a depth of 6km. It was preceded at 1pm by a magnitude 5.6 10km east of Christchurch at a depth of 9km.
Further building and land damage from lliquefaction and major rockfalls around the Port Hills.
Friday 23 December 2011
1.58pm (NZ time) there was a magnitude 5.8 earthquake, followed by a 5.3 at 2:06pm and a 6.0 at 3:18pm.
Find out more about the science of earthquakes.
Media coverage
Search our catalogue
Historic earthquakes
Canterbury's most severe earthquake prior to these occurred on 1 September 1888 about 100km north of Christchurch in the Amuri district. It is recorded as a magnitude 7.1 earthquake, but reached magnitude 9 at its epicentre. Extensive vertical and horizontal ground movement caused considerable damage to buildings and land. The quake badly damaged the spire of the Cathedral as well as buildings throughout Christchurch.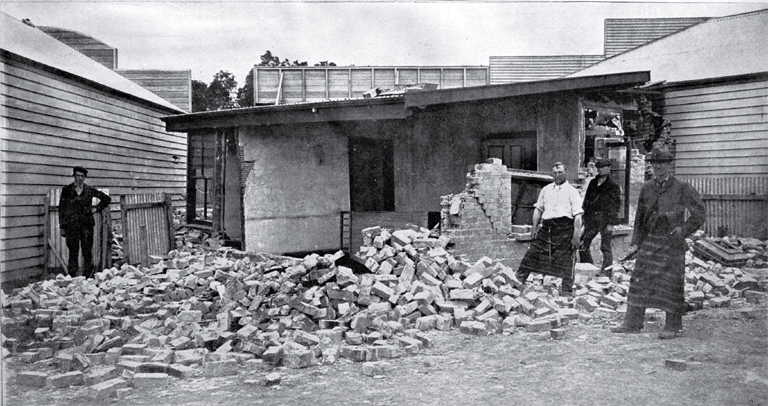 ChristChurch Cathedral was damaged by three quakes during its construction – 1881, 1888 and 1901.
More information