This page explores the origins and history of Strange and Company. In its heyday, this department store was one of the largest in Australasia.
This article is by Kim Morgan of Christchurch City Libraries.
Early beginnings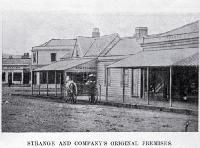 William Strange was born in 1832 in Brackley, Northamptonshire, England and began an apprenticeship, at the age of 12, with his uncle in Banbury.1
At the age of 18, William decided to sail to Sydney, arriving in 1852.2 Here he worked for Farmer, Williams and Giles. After four years as manager of a new business belonging to M. Giles, William decided to step out on his own account.
William later moved to Christchurch and just two weeks later3 began his own drapery business. On 25 November 1863 4 he opened for business, in a building that strongly resembled a country store.5 He brought much tact, skill, acumen, and varied experience to bear on the business, and Victoria House soon won a reputation for the quality of its goods.6
Expansion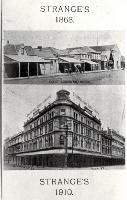 In 1874 land was purchased for larger premises in High Street. Leading commercial architect William Armson designed an Italian Renaissance style building.7
In 1893, an adjoining building that fronted Lichfield Street was built. Five years later, a third storey was added. 8 The High Street building, known as Victoria House (as was his original venture), was of two storeys and featured a pavement width veranda and large plate glass windows displaying such items as ribbons, lace, gloves, hosiery, millinery, dress goods and tailoring. The Lichfield Street frontage featured a carpet department, floor-cloths, household requisites, bicycles, furniture and furnishings. 9
The Cyclopedia of New Zealand noted in 1903 that, so numerous are the goods in which this remarkable firm deals that its establishment is becoming more and more like the great department stores of America.10In addition, Strange and Company had an office at 139 – 141 Wool Exchange, Basinghall Street, London, where it employed a manager, accountants and staff buyers. 11 By this time Strange and Company employees numbered nearly 600.12.
The business continued to expand. In 1899, a new building — also in the Italian Renaissance commercial style13 — was designed by Armson. The corner site was previously occupied by a row of older weatherboard shops. This new building, on the corner of High and Lichfield Streets, was a four storey, Renaissance-inspired building. It was faced in Oamaru stone, unusual in a city in which most commercial buildings were built plaster over brick. 14
The new Italianate building was erected on the then busiest intersection in the City.15This imposing store was built on an acutely angled corner. On the first floor, fluted pilasters separated round-headed windows in the Italianate mode. Above were plainer square-headed windows. 16 The building was completed in 1890.
Factory and farm
The business, under Mr Strange's close stewardship, became known throughout Canterbury. After twenty years, he retired and sold out his interests to his brother Edward. William Strange then took up sheep farming. In 1880, he bought Milton, a 10,000 acre run on the Selwyn. 17 Around the end of the 1880s, William sold his portion of Milton.18 William returned to the company and resumed control. In 1895 Mr Thomas Coverdale was admitted as a full partner and charged with sole management of the store.
William Strange also started manufacturing. Strange and Company erected an up-to-date factory on Manchester Street opposite the Christchurch Railway Station. This large building included a polishing room, engine room. furnishing room and offices. The building featured an imposing two storey frontage, and this part of the enterprise was used as a furniture stock room. Upholstering, bedding manufacturing, timber seasoning and storage19 were among the items manufactured here. Strange and Company took orders from all over New Zealand.
The Great Fire
On 6 February 1908, the fire brigade was alerted to a fire in a building adjacent to the Strange and Company store. It had been acquired for the purpose of displaying furniture. The fire, aided by a strong easterly, spread rapidly to adjoining establishments. In what was to become known as Strange's Fire, it appeared to onlookers that the fire was eating up the business heart of Christchurch.20
The lack of a high pressure water supply, and the fact that the fire tanks were quickly depleted, meant much time was lost. It subsequently took another twenty minutes or so to move the pumps to the Avon River while the flames continued to rage. The fire caused a great deal more material destruction than did the 1947 Ballantynes' Fire in which 41 people died, but no one died as a result of the Strange's fire.
The incident eventually was remembered as the Great Fire. Adjoining establishments such as Malcolm and Co., The White Hart Hotel, Ashby Bergh and Co., DIC department store, Hayman's, Benjamin and Co., and Hallensteins were burnt out and required rebuilding. The fire did not affect the main part of the stores21 and Strange and Company went on to hold a sale, as had been previously planned, on the following day.
The New century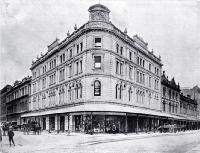 By the early 1900s, Strange and Company was New Zealand's biggest department store.22 By 1925 Christchurch's population of almost 120,000, was home to more than half of the people of the Canterbury Province; city department stores had expanded too. By the end of the 1920s, Strange and Company was the largest retail warehouse in the Dominion.23 Their rivals — Beaths, DIC and Ballantynes — also vied for this position. These rivals were large businesses proudly displaying their wares in prominent four to six floor stores.
With the death of William Strange in 191424 there was an accompanying decline of the enterprise, and without strong leadership Strange and Company began to flounder.25 Trading continued, but the tough financial climate of the depression years ensured the end of this once famous name. On his death, trustees were brought in to run the business.
Strategies such as more direct importing from England and less local buying helped increase profit. Trade conditions in the 1920s required greater capital. A local syndicate, in one of the largest property deals in New Zealand at that time, took over. But these absentee owners in the 1930s meant that the firm was not run properly and the business was closed.26
The once thriving and great department store that had its genesis in a small wooden drapery store many decades earlier and was now no more.
The Last days of Strange and Company's building
In the 1940s, some of the building's decorative features were removed including a veranda and a parapet with spiked urns,27 but the carvings featured on the façade and a marble staircase remained.
Strange and Company's building was listed with the New Zealand Historic Places Trust as a Category 1 Building. The building experienced renovations in the 1980s, and a several small businesses took up leases. Numbered among businesses in the 2000s were Java Café, a hairdresser, and a pool gaming room. In 1987, the structure underwent refurbishment by Alan Harper Ltd for the Magellan Corporation.28
In 1995 tenders for the building were not accepted and the building remained on the market for $1.3 million.29 In 2010, investor KPI Rothschild purchased the building in a forced sale, confirmed to be at around $2 million. The building had been purchased in 2004 for $2.65 million but the new owners were unable to complete planned renovations after encountering consent hurdles.30 KPI Rothschild had plans to give it a chic modern look but keep the character.31 There were plans for office tenants upstairs and a wine bar and arcade on the ground floor.
The earthquakes of 2010 and 2011 took their toll on the beautiful edifice of Strange and Company's building. The only people to see its sad demise were the demolition crew. In the cordoned off central business district Red Zone, it was reduced to a vacant lot.
Footnotes
1. Obituary, Mr William Strange, Ashburton Guardian, Volume XXXV, Issue 9003, 25 November 1914, p 2
2. Obituary, Mr William Strange, Ashburton Guardian, Volume XXXV, Issue 9003, 25 November 1914, p 2
3. The Press, Christchurch, 18 October 1997, p 8
4. Industries of New Zealand, The Arthur Cleave Publishing Co. 1898, p 337
5. Industries of New Zealand, The Arthur Cleave Publishing Co. 1898, p 337
6. Industries of New Zealand, The Arthur Cleave Publishing Co. 1898, p 337
7. The Press, 18 October 1997, p 8
8. The Press, 18 October 1997, p 8
9. The Cyclopedia of New Zealand - Canterbury Provincial District, Cyclopedia Company Limited, 1903, p 126
10. The Cyclopedia of New Zealand - Canterbury Provincial District, Cyclopedia Company Limited 1903, p 302
11. The Cyclopedia of New Zealand - Canterbury Provincial District, Cyclopedia Company Limited 1903, p 302
12. The Cyclopedia of New Zealand - Canterbury Provincial District, Cyclopedia Company Limited 1903, p 302
13. The Press, 18 October 1997, p 8
14. City and Peninsula. The Historic Places of Christchurch and Banks Peninsula, Christchurch Civic Trust / The Akaroa Civic Trust, 2007, p 150
15. City and Peninsula. The Historic Places of Christchurch and Banks Peninsula, Christchurch Civic Trust / The Akaroa Civic Trust, 2007, p 150
16. Selected architecture, Christchurch. A Guide, Gavin Willis, NZ Institute of Architects Inc. Caxton Press, 2005, p 16
17. The Early Canterbury runs, L.G.D. Acland, Whitcoulls Ltd., Christchurch, New Zealand, 1975, pp 49 and 50
18. The Early Canterbury runs, L.G.D. Acland, Whitcoulls Ltd., Christchurch, New Zealand, 1975, pp 49 and 50
19. Industries of New Zealand, The Arthur Cleave Publishing Co., 1898, p338
20. The Press, 3 April 1995, p 27
21. The Early Canterbury runs, L.G.D. Acland, Whitcoulls Ltd., Christchurch, New Zealand, 1975, pp 49 and 50
22. The Star, Weekender, 17 July 2009, p A5
23. A New History of Canterbury, Steven Eldred-Grigg, John McIdoe Ltd, 1982, p 102
24. Index to the G.R. MacDonald Dictionary of Canterbury biographies
25. The Press, 18 October 1997, p 8
26. Christchurch street and place names
27. The Press, 27 January 2009, p C10
28. Christchurch cityscope - Commercial Property Intelligence, February 1999, p 2
29. The Press, 18 August 1995, p 3
30. The Press, 19 May 2010, p C12
31. The Press, 19 May 2010, p C12