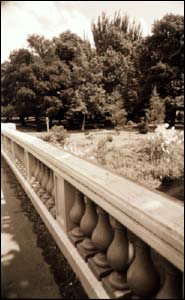 Little Hagley Park refers to the area between Harper Avenue and Carlton Mill Road at the north-east corner of Hagley Park
In 1858 the Provincial Government approved a request to set aside a Native Reserve in Hagley Park. This site soon became the meeting and resting place for Māori who often travelled great distances to sell or trade their produce, particularly at the nearby markets held in what was then known as Market Square (Victoria Square).
In 1860 petitions were presented to the Provincial Government requesting that a Māori hostel be built on the site. This request was turned down and the hostel was never erected. Later, in 1868, 150 Ngāi Tahu Māori would camp on this site during an important session of the Native Land Court.
In the mid 1970s local Māori under the Ōtautahi Māori Committee made submissions to the Minister of Māori Affairs concerning the Government's denial of the area's Native Reserve status. This dispute was settled and eventually Pilgrims Corner was bartered for land in Pages Road for the site of Ngā Hau e Wha Marae.
Sources