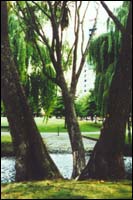 Market Square is the area we know today as Victoria Square.
Many Māori, particularly Ngāi Tūāhuriri from Kaiapoi, came here to sell their produce at the markets held on the banks of the Ōtākaro (the Avon River). Accounts of the market indicate that it was a lively event with horses and dogs accompanying sellers.
The site also has more distant associations for Māori having once been part of the ancient Waitaha pā of Puari.
The poupou
A special poupou was commissioned for the site as part of the 1990 commemorations of the signing of The Treaty of Waitangi.
The six metre high poupou was erected on the banks of Ōtākaro in 1994. Carved from a giant trunk of totara, it was crafted by local artist and master carver Riki Manuel.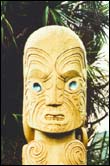 The poupou is rich in symbolism, its main themes being mahinga kai and depictions of tipuna of the Ngāi Tahu / Waitaha people.
Sound recordings are played in several languages from a permanent speaker system adjacent to the poupou.
Many people, both locals and visitors admire the craftsmanship of this striking visual reminder of the history and significance of this area to Māori.
The poupou was removed post-quake for conservation work and was returned to Victoria Square after Avon River landscaping works were carried out.
Sources