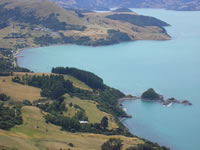 Mairaki is a point to the south-east of the Wainui reserve. This point played an important role as a signal post between those people living on the western and eastern sides of the harbour.
Akaroa Harbour is long and thin so most parts are visible from various locations around the harbour and signal fires were used by the people to keep in touch with relatives across the other side of the water. These signal fires had both offensive and defensive uses for the people of Ngāi Tūāhuriri and Ngāi Tarewa living there.
On the land surrounding Mairaki a plantation of tī kōuka (cabbage) trees was planted. The tī kōuka were harvested for kāuru, a sugar like substance much prized by Ngāi Tahu.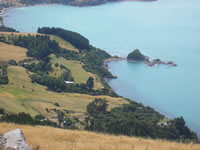 The kāuru was found in the heart of young cabbage tree branches. The branches were cut into two-foot lengths stripped of bark and wood. The fibres were then tied into bundles and cooked in large ovens (Te umu kaha) where the kāuru was extracted. The present day town of Temuka takes its name from these large ovens.
Sources