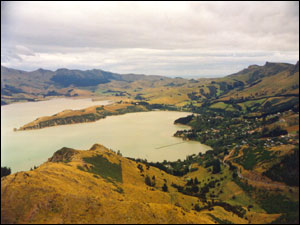 Ōhinetahi valley at the head of Whakaraupō (Lyttelton) harbour, was once the site of a heavily stockaded Ngāti Māmoe pā that was stormed by Te Rakiwhakaputa of Ngāi Tahu around 300 years ago.
After its capture, Te Rakiwhakaputa's son Manuhiri occupied the pā with a party of Ngāi Tahu.
Manuhiri fathered many sons but only one daughter. He named the pā after this solitary daughter. Ōhinetahi means The Place of One Daughter.
It is also from this area that the whole of the harbour derives its name. Whakaraupō means Harbour of the Raupō Reed, and at the head of the harbour at Ōhinetahi there was once a swamp filled with a thick and high growth of raupō.
Sources