This page features extracts from a recording of Donald Couch speaking about Rāpaki Marae in October 2005.
Donald Couch grew up at Rāpaki. He later lived in Canada for 30 years before returning to Rāpaki in the 1990s. He was elected as the Rāpaki representative to Te Rūnanga o Ngāi Tahu in 1998 and served for many years at the table. He has worked as a Senior Lecturer in Māori Resource Management, served as the chair of the Ngāi Tahu Mātauranga Trust, a trustee of the Ngāi Tahu Ancillary Claims Trust and a trustee of the Rāpaki Taukahara Trust. In 2009 he was appointed as one of seven commissioners, following a Government review of Environment Canterbury.
Rāpaki
Donald Couch speaks about growing up at Rāpaki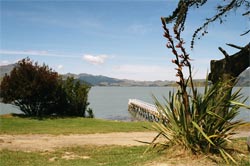 Rāpaki is a small settlement on the winding inner eastern shoreline of Whakaraupō (Lyttelton Harbour). From the beach of its wide shallow bay there is a view across the blue grey water to Ōtamahua (Quail Island) and westward toward the mudflats at the head of the harbour. Rāpaki is home to one of Te Rūnanga o Ngāi Tahu's five Banks Peninsula papatipu rūnanga, Te Hapū o Ngāti Wheke.
Te Rāpaki o Rakiwhakaputa
The name Rāpaki recalls the actions of the chief Te Rakiwhakaputa who threw down his rāpaki (waist mat) on the shores of Whakaraupō thus claiming the land for Ngāi Tahu. The full name of the bay is Te Rāpaki o Te Rakiwhakaputa. After securing Rāpaki as Ngāi Tahu territory, Te Rakiwhakaputa moved on to claim other areas and left his son Te Wheke to establish the settlement.
When the Canterbury Association's representative Captain Joseph Thomas arrived at Whakaraupō in the 1840s his favoured position for establishment of a port was Rāpaki. Rāpaki Māori preferred to maintain their land for themselves so the port was established at nearby Lyttlelton.
Te Poho o Tamatea and Other Landmarks
The landscape around Rāpaki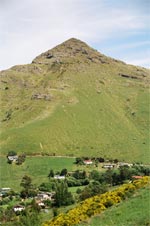 Many important landmarks and place names around Whakaraupō recall stories of exploits, adventures and battles of Ngāi Tahu and earlier Ngāti Māmoe ancestors. Some of these include, Ōtamahua, Ōmawete, Ō Kete Upoko, Ō Rongo Mai, Ōhinehou, Ōhinetahi and Tauhinu Korokio. The maunga that overlooks Rāpaki is Te Poho o Tamatea (the breast of Tamatea) and is named after the explorer Tamatea Pōkai Whenua who is said to have climbed this peak to recite a karakia asking a tohunga to send fire to warm his people. Tamatea Pōkai Whenua is also recalled in the Māori name for the Port Hills, Ngā Kohatu Whakarakaraka o Tamatea Pōkai Whenua meaning, the smouldering boulders of Tamatea Pōkai Whenua.
Kai Moana
Defining aspects of Te Hapū o Ngāti Wheke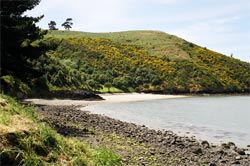 The proximity of the settlement to the sea is a defining characteristic of Rāpaki. Kai moana and the gathering of it have therefore always played an important role. Manuhiri visiting Rāpaki and other settlements in Whakaraupō would have looked forward to a hākari of local kai moana which was once abundant in the area. The traditional fish associated with Whakaraupō is pioke (dried rig).
Today the stocks of kai moana are greatly reduced but Te Hapū o Ngāti Wheke Inc. is working to re establish traditional fisheries. Rāpaki became the site of the world's first Mātaitai reserve in 1998. Mātaitai reserve status means that Te Hapū o Ngāti Wheke Inc. has the mandate to manage customary fishing resources at Rāpaki.
Te Wheke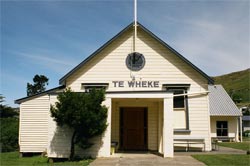 The Rūnaka Hall is named after Te Wheke, the son of Te Rakiwhakaputa. It was built by Rāpaki whānau and opened on 30th December 1901 by the then Minister of Labour, the Hon. W. C. Walker. Visitors were officially welcomed by the head of the Rūnaka, Teone Tāre Tikao. Te Wheke has seen many changes and upgrades in its years and has hosted many important guests and hui. On December 30th, 2001 centennial celebrations of the opening of Te Wheke were held at Rāpaki.
In November 2008, plans to replace Te Wheke with a traditional whare whakairo were implemented. Celebrations were held at Labour weekend to farewell Te Wheke before the dismantling and cremation of the old hall. With over a hundred years of service to the community this final step in the life of the old hall was an opportunity for people to say farewell and remember the many occasions when Te Wheke has sheltered, protected and welcomed people to Rāpaki.
Whare Karakia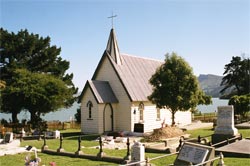 Through the 1850s the Rāpaki population grew and a Māori Mission was established there. In 1865 the Methodist missionary Te Kōti Te Rato moved to Rāpaki and the Rāpaki community built a church. The church was opened on 4 May 1869 with a multi-denominational service at which hymns were sung in Māori and English. The church has been supported by the Anglican, Presbyterian and Wesleyan ministries and is still used today for occasional services. Centennial celebrations of the church were held in 1969.
Schoolhouse
The Church and Schoolhouse at Rāpaki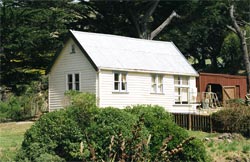 A schoolhouse opened at Rāpaki in 1878. The school closed for a period but was reopened and operated from 1932 until 1946 when it was forced to close permanently on account of low student numbers. The schoolhouse has since been restored and is used today for meetings and gatherings.
Gallipoli
Gallipoli, the jetty at Rāpaki
The Rāpaki jetty opened for use in 1916 and was named Gallipoli in remembrance of local men who fought and died there in WW1.
Rāpaki today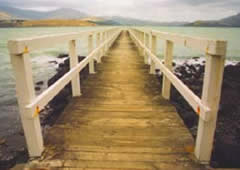 Marae redevelopment is a major focus for Te Hapū o Ngāti Wheke today. A whare whakairo (carved meeting house) has replaced the ageing Rūnaka hall, Te Wheke. The hall was dismantled in November 2008, the first stage of building a new whare. Many hours went into weaving and carving features that grace the inside of this special building and represent the rich history of Te Rakiwhakaputa and his descendants. The new whare opened in November 2010.
Other major long term projects include work on the restoration of the harbour, restoration of the local stream and regeneration of native bush in the area. Te Hapū o Ngāti Wheke also works to ensure that a tangata whenua perspective is brought to wider community issues and projects within their rohe (area).
Whare Tipuna o Wheke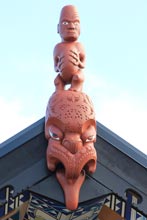 This first stage of the new marae complex at Rāpaki is a fine example of what can be achieved when creativity and passion have been harnessed to produce an impressive building that aptly tells the stories of this tipuna and the people who have lived in this harbour bay for hundreds of year.
Gracing a building designed by Royal Associates are beautiful carvings completed by local carvers Riki Manuel and Fayne Robinson. These carvings tell the stories of Ngāi Tahu ancestors and the more recent histories of the local hapū of Ngāti Wheke.
The talents and skills of local artists, craftspeople and whānau members reflect the many hours spent working on the tukutuku designs, kowhaiwhai drawings and weaving that adorn the walls of the whare. These unique designs bring to life the sea, the bird and plant life within the whare mirroring what is found in this picturesque bay.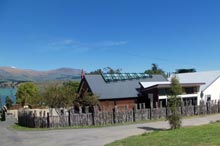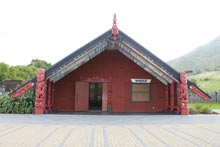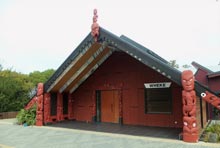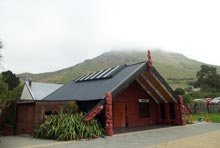 Links
Sources
Donald Couch, Interview by Helen Brown. DAT recording, Donald Couch's home, Rāpaki, Christchurch, 20 October, 2005.
Arthur (Hiwi) Couch, Rāpaki Remembered, Te Waihora Press and The Canterbury Maori Studies Association 1987.
R. Subritzky, Te Wheke 1901 - 2001 A Souvenir Booklet, 2001.
J. Wilson, Rāpaki, Historic Places No 17: 24 - 26 June 1987.
A. Moffat, Rāpaki celebrates centenary in style, The Press, 2 Jan 2002.
Rapaki Church Centennial, Te Ao Hou, July 1969 No.67, 32 - 36.
Te Rāpaki o te Rangiwhakaputa – Whare Tipuna o Wheke resource of Rāpaki Education Committee, March 2011.
Further Information
N. Morrit, New era for Rapaki Marae, Bay-Harbour News, 11 October 2006, pages 1, 4.