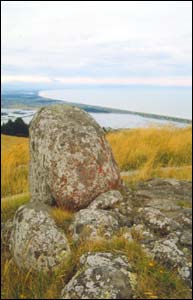 Tauhinu Korokio is named after two native shrubs that were once plentiful there.
It was the site of a Ngāti Māmoe pā that was captured by a party of Ngāi Tahu led by the chief, Te Rakiwhakaputa, in the late seventeenth century.
At 499 metres, Tauhinu Korokio is the highest point of the eastern Port Hills and provides a commanding view in all directions. It was the perfect pā site, also boasting a plentiful firewood supply and spring water.
Later Ngāi Tahu grew kōrau and pōhata, which were root vegetables (turnips), on the hillside. They were dried in the sun and stored in rua or underground storehouses.
The ground below the pā site was tapu and may have been a tūāhu (shrine-like place where a sacred fire and sacred objects such as whakairo of tribal gods were kept) or else an urupā.
It is said that the ancient black art of mākutu was also practiced here.
Tauhinu Korokio remains a highly tapu place.
Sources
Teone Taare Tikao, (told to Herries Beattie). Tikao Talks, Penguin Books in association with Cadonsbury Press, 1990. (First published A.H and A.W Reed Ltd. 1939)
Walter De Their, Sumner to Ferrymead: A Christchurch History, Pegasus Press, Christchurch, 1976
James Cowan, Māori Folk Tales of the Port Hills, Canterbury, New Zealand, Third Edition, facsimile of First Edition, with index, Cadsonbury Publications, 1995. (First published 1923).