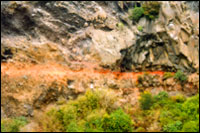 Te Rae Kura has been home to many people for up to 1100 years.
The Māori name for Redcliffs is Te Rae Kura meaning red, glowing headlands.
Large groups of Māori settled here during the 14th century. A kāika was located at Te Rae Kura that was occupied by the early Waitaha people and then, later, by the Ngāti Māmoe tribe. Ngāi Tahu displaced Ngāti Māmoe in the 17th century and were still living in the area when the first Europeans began to arrive.
The point at the Redcliffs Cutting is named Te Pou o te Tutemaro, in honour of an early Māori explorer.
Te Rae Kura after the earthquakes
Extensive damage to the cliffs of Te Rae Kura (Redcliffs) occurred following the earthquakes in February and June 2011. Huge rock falls have revealed the red volcanic rock from which the cliffs take their name. Many houses were destroyed, a school shifted and lives lost in this area. In the aftermath of these devastating quakes the long-term use of these cliff suburbs is uncertain as people grapple with whether this area will ever be safe for habitation again.
The outlet of Watson's Creek at Redcliffs is called Waipātiki because Māori speared flounder there and the mudflats at Redcliffs are called Tamahika.
See also
Te Ana o Hineraki (Moa Bone Point Cave)
Sources