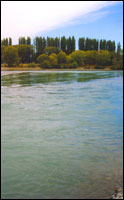 Waimakariri means cold, rushing water.
Traditionally the Waimakariri provided several trails to the West Coast where precious pounamu was gathered.
The river was also used as an access route to the mahinga kai areas further inland at lakes such as Lyndon and Pearson.
The Waimakariri itself was also an important mahinga kai for the people of Kaiapoi.
Today, due to heavy pollution, it is rarely used for food gathering.
Urupā, occupation sites and mahinga kai sites are found along the length of its banks.
Sources