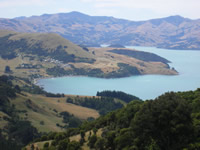 Wainui, meaning big bay or big water, is the name of the bay on the western side of Akaroa harbour that runs from Ōtūtereinga in the north to Ngamotaurua (Cape Three Points) in the south.
Ngamotaurua is also known as Wainui Island. Te Umu a Raki (the oven of Raki) is the name of a sheltered bay on the north side of this island.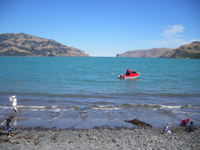 The name of the stream running into Wainui bay is called Tangata-iti (little man).
Today Wainui is a popular place for holiday makers and adventure because of the YMCA outdoor education centre based there.
Wainui is also an important place for Akaroa Ngāi Tahu.
Rising above the bay is the imposing sight of Mt Bossu. In Ngāi Tahu legend, this maunga (mountain) is the resting place of the kō (digging stick) of the legendary explorer Rakaihautū. It was Rakaihautū who explored Te Waipounamu (South Island), and with his magic digging stick Tuhiraki dug out the lakes found there.
In Ngāi Tahu times, this bay was claimed by the fighting chief Te Ruahikihiki when he landed at Wainui and dug for fern roots there. There were many ways that land could be claimed by chiefs, with another well known example being the laying down of a garment as done by Te Rakiwhakaputa to claim Rāpaki for himself and his descendents.
Te Ruahikihiki would later move on to Whakamoa and finally Taumutu.
Te Maiharanui (Tamaiharanui) the paramount chief of Akaroa Ngāi Tahu from his base at Takapūneke (Red House Bay) on the other side of the harbour would use Wainui as a base to gather flax which he sold to Europeans. The flax found in New Zealand was of good quality and sought after for the making of ropes.
Sources