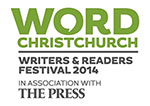 WORD Christchurch Writers and Readers Festival in association with The Press brought local and international literary luminaries to Christchurch. It took place from Wednesday 27 August to Sunday 31 August 2014. The Read Aloud Schools' Programme was held Thursday 28 August.
Nicky Hager and Maire Leadbeater. WORD Christchurch. Flickr: 2014-08-29-IMG_1716
Interviews
Festival blog posts
Read our Festival posts:
Three Quick Questions
Festival information
Writers and thinkers at the Festival
International
New Zealand
Our page on literary festivals and events.
Previous Festival coverage