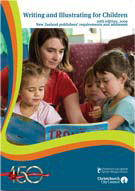 This guide is for aspiring writers and illustrators who wish submit their work to publishers in an appropriate format. It is based on Writing and illustrating for children, originally compiled and edited by Bill Nagelkerke.
While every care has been taken in compiling this publication, Christchurch City Libraries accepts no responsibility for errors and omissions, or changes to publishers' details.
Quick links
General guidelines
Scripts should:
Be typed on one side of A4 paper
Be double spaced
Have good margins on either side of the page
Be numbered consecutively
Include name and address
Include a simple, straight-forward covering letter including a writing/illustrating CV
Be sent with a stamped, self-addressed envelope of suitable size for their return
The following general comments have been made by publishers in past years:
Aspiring authors should make a point of becoming conversant with successful contemporary New Zealand and overseas titles in the particular area or age group that they wish to write for;
To be successful you need to be original and humorous;
Be aware of contemporary preferences, preoccupations and speech styles;
Be sensitive to issues of gender, race and ability;
Write simply but effectively;
Treat young readers with respect.
Research your market
Authors and illustrators are advised to research the potential market for their work. Talk to booksellers, librarians, teachers, parents and children, and be aware of what is currently being published successfully. For the educational market, writers should look at books currently being used in schools — content, style, genres, and so on.
Submissions need to be of a high standard. Writers should spend time in libraries and bookshops to appreciate the quality of published books. Try and have the work professionally assessed before submitting.
Directory available
The New Zealand Publishers Directory is freely available online from The Publishers Association of New Zealand. As well as contact addresses, it indicates the type of work each publishing house concentrates on.
Professional assessments
Professional assessments are available from a number of private individuals and firms, some of whom also offer agency services or self-publishing. Consider joining the local branch of the NZ Society of Authors (PEN NZ) Inc.
Getting inspiration
Most publishers suggest new and aspiring writers look at the most successful books on the market. A good place to start is the selection of books that have won the NZ Post Book Awards.
The cold, hard facts of writing and publishing
Coral Atkinson is a Christchurch writer who has worked in book publishing, currently tutors on the Whitireia Polytechnic publishing diploma course and teaches community classes in writing and publishing. She has also published short stories and won competitions for short fiction in New Zealand, England and Ireland. She writes:
Writing is a craft which frequently takes years to master. You wouldn't expect to get a position with a professional ballet company when you first begin dancing classes and it is the same with writing. Most writers go through some sort of 'apprenticeship' before work is accepted for publication. Don't be downhearted if your early attempts are rejected; remember you are learning all the time.

Writing brings both pleasures and disappointments. Try not to see rejection as being personal, it isn't. Remember that there are other reasons for a manuscript being rejected by a publisher, which may not have anything to do with the quality of the writing. Many writers find that it helps to have several projects on the go. You may cope better with a disappointment if you have other distractions and dreams.

Writing successfully is a lot of work. You need to be prepared to write and rewrite, and revise and edit multiple times.
Publishers' contact details
Gecko Press
Read Gecko Press manuscript guidelines
Preschool fiction — illustrations may be submitted
Fiction for younger children (up to 12 years old)
Non-fiction for ages 0-12 years — any subjects considered
Visit www.geckopress.co.nz or write to PO Box 9335, Marion Square, Wellington 6141.
Huia Publishers
Read Huia Publishers page about manuscripts
Fiction for younger children
Fiction for older children
Fiction for teenagers
Non-fiction for all ages, any subjects considered.
NB: Huia prides itself on publishing and promoting Māori and Pacific literature and artists. Unless you can demonstrate heritage from these backgrounds please do not send your material to us without contacting us first by email.
Visit www.huia.co.nz or write to PO Box 17-335, Karori, Wellington, 6147.
Learning Media Limited
Contributors should aim to write for a specific series.
Preschool fiction
Fiction for younger children
Fiction for older children
Fiction for teenagers
Non-fiction for all ages, any subjects considered
Learning Media Te Pou Taki Kōrero publishes:
For New Zealand early childhood centres, primary and secondary schools, kura kaupapa, and wharekura.
For schools in Australia, Canada, Asia, the Pacific, the United Kingdom and the United States.
In English, Māori, Cook Island Māori, Fijian, Niuean, Sāmoan, Spanish, Tokelauan and Tongan.
Print, audio, video, CD-Rom and online media.
Contributions from freelance authors, illustrators, photographers and performers are a highly valued source of material for Learning Media Te Pou Taki Kōrero. Many New Zealand authors have had their first work for children published in our resources, and we are keen to encourage new authors and artists.
Visit www.learningmedia.co.nz or write to PO Box 90712, Victoria Street West, Auckland 1142 New Zealand
Mallinson Rendel Publishers
In December 2009 the Mallinson Rendel assets were acquired by Pearson NZ.
Pearson
Read information for authors on the Pearson website.
Publish print, multimedia and online educational resources.
Visit www.pearsoned.co.nz or write to Private Bag 102902, North Shore, Auckland 0745.
Penguin Group (NZ) Ltd
Read Penguin manuscript submission guidelines
Preschool fiction. Illustrations may be submitted.
Fiction for younger children.
Fiction for older children
Fiction for teenagers
Non-fiction for all ages. Any subjects considered.
Visit: www.penguin.co.nz or write to Private Bag 102902, North Shore, Auckland 0745.
Random House New Zealand
Read Random House manuscript submission guidelines
Do not accept unsolicited poetry, short stories, adventure, fantasy or science fiction novels, plays, screenplays or war diaries.
Visit www.randomhouse.co.nz or write to Private Bag 102 950, North Shore, Auckland 0745.
Scholastic New Zealand Ltd
Scholastic New Zealand does not currently accept unsolicited manuscripts from unpublished authors, however portfolios from new illustrators are accepted.
Download Scholastic New Zealand manuscript submission guidelines [47Kb .PDF]
Visit www.scholastic.co.nz or write to Scholastic NZ Ltd, Private Bag 94407, Botany, Auckland 2163.
Manuscript assessors
You will be charged for an assessment of your manuscript. Not all manuscript assessors are experts in all areas of writing, so you would be wise to check on fee scales and areas of interest prior to sending them your work. The agencies listed here are recommended to provide you with a high standard of feedback and guidance. They are all members of the NZAMA, an association of professional editors and writers.
Read a full list of assessors from the New Zealand Association of Manuscript Assessors website.
Literary agents and publishing consultants
You may be asked to pay for the services these agents and consultants offer. We suggest you write to them to discuss what you require and what fees may be involved before sending them your work. These agencies should not be used for assessment of manuscripts prior to publishing. In this instance you are hiring these people to act on your behalf — should they accept you as a client, they will actively promote your work. For an accurate, impartial assessment of your work, prior to approaching an agent, see the list of manuscript assessors.
Auckland:
Michael Gifkins, PO Box 6496, Auckland
Richards Literary Agency, PO Box 31240, Milford, Auckland
Wellington:
Total Fiction Services, PO Box 46-031, Lower Hutt, 5044
New Zealand Society of Authors manuscript assessment programme
Members of the New Zealand Society of Authors are able to obtain feedback on their work-in-progress and advice on technical matters from the society. Applications open in February and close in May. This subsidised service is open to writers at all levels, from beginners to published and mid-career writers, who are members of the society.
Read more about the service and the application process on the society website.
Looking for strategies to market your book?
The New Zealand Society of Authors publication Marketing your Book booklet can be purchased from their website, or is available in libraries.