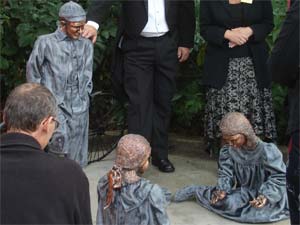 This sculpture depicting a glimpse of Fendalton history was unveiled at the Fendalton Service Centre and Library Wednesday, 14 March 2007.
Christchurch sculptor Don Paterson, was commissioned by the Fendalton Public Art Working Party, comprising of community board members and community representatives, to create a unique permanent public artwork that would reflect the history of the Fendalton area and be relevant to the current community. The rationale for this project was to celebrate the community of Fendalton and what makes this area unique to Christchurch and to the people who choose to live there.
The project brief gave imaginative freedom to design a unique public artwork that needed to:
Complement and relate to the site and surrounding area
Have minimum maintenance
Be accessible to the community
Be of a size that is relevant to its setting
Be robust- with permanence against the elements, graffiti and vandalism
Take account of health and safety standards
Be seen in such a way that it had an impact both day and night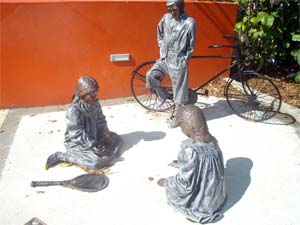 Don Paterson is a renowned sculptor. He has 17 large civic art pieces displayed throughout New Zealand. These include Charles Meryon at Akaroa, Captain Cain in Timaru and a work depicting a father and son reading in the College of Education's library.
Children from the Fendalton OSCAR programme were invited to name the art work and after much discussion agreed on"Passing Time".
This initiative resulted from the Council resolution in 2003 to reallocate funding set aside for the former Waimairi Study Awards for use to 'fund an interactive artwork, to be sited in an appropriate location within the boundaries of the former Waimairi District Council'.
Further to this resolution, the former Arts Culture and Heritage Committee resolved in May 2004 that:
"The Christchurch City Council Fendalton Library and Service Centre/Jeffreys Park site be confirmed as the location for the interactive artwork."