Library Names: the Stories of the Bilingual Names for Christchurch City Libraries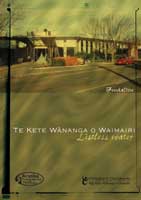 Waimairi, can mean many things, and has done so to many people. Some ideas behind each name are evident in itself such as - 'Listless stream, deep water channel, honey water, water by which Maire trees grow, or peaceful water running by a tree'. Waimaero is stated as being the correct Māori version of this word.
The suburb of Christchurch now known as Fendalton is drained by several streams that form the headwaters of the Avon River, uniting near the northwest corner of Hagley Park. Today the river is confined between stop-banks to the north of the city, but in the past it employed more southerly riverbeds towards the present Avon-Heathcote Estuary.
Campsites were built near Pūtaringamotu and Te Herenga Ora (Burnside) along known pathways through the dangerous swamps. Other activities in the area include sacred springs that feed into the main river that were often used by tohunga for ceremonial purposes. These were sited in the Orakipaoa area in the Wairarapa and Waiwhetu streams.
Other Māori names associated with this area are Hika-huruhuru, which can mean either falling hair or feathers. In the vicinity of the Waimaero Stream was Te Pohorakinui - The breast of the Great Sky. Ōrakipaoa area contains sacred springs used by Tohunga (Priests) for healing purposes - one was Wairarapa, another the Waiwhetu. The southern branch flowing past Riccarton House is given as Ōrakipaoa (Smoky Sky). Ōrakipaoa is also a name applied to an old cultivation on the stream of the same name on the south side of the old pā of Waiateruati. Ohikati (the place of Hikaiti) - this may be a historical character or an allusion to a deity controlling the tides is said to be at Fendalton, north of Dean's Bush.
Fendall Town remained more or less cut off from Christchurch, the way to the city being via Lower Riccarton and across seven creeks with no bridges. By 1866 the name had been shortened to Fendalton, as we know it now.
Listen to the Māori name [81KB MP3]
Related pages