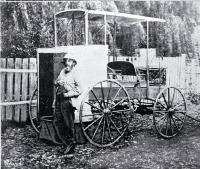 Dr Alfred Barker travelled to Christchurch as surgeon on the Charlotte Jane. His photographs documented the growth and development of early Christchurch. This page has brief details of his life, links to his photographs and where to find more information about him.
Early life and medical career
Barker was born on 5 January 1819, in Hackney, London. He married Emma Bacon shortly after graduating as a surgeon in 1845.
After practising medicine for some years he decided to emigrate to Canterbury with his family. As surgeon on the Charlotte Jane he received free passage and a salary in return for looking after the 150 settlers. The Barkers landed at Lyttelton on 16 December 1850.
As the only doctor in Canterbury, Barker had a large and busy practice. As other doctors arrived and started working, he gradually turned his attention to photography. He retired from medicine after his wife Emma died in 1858, but kept the position of registrar (or recorder) of births, deaths and marriages in Christchurch. Barker was also interested in aeronautics and architecture.
Photography
Barker's earliest known photographs date from 1858, but he probably started taking pictures before then. He photographed family and friends and recorded the growth and development of Christchurch. He built a darkroom at his house, near Cathedral Square. However the wet-plate process in use at the time meant developing had to be carried out almost immediately — so he designed a four-wheeled buggy which incorporated a mobile dark-room.
The range of subjects in Barker's photographs created a valuable historic record of what life in early Christchurch was like.
Canterbury Museum holds a large collection of his work.
Death
Barker died on 20 March 1873 in Christchurch from meningitis. He was buried in the Church of England cemetery on Barbadoes St.
More information
The house of Dr Alfred Charles Barker (1819-73), Worcester Street, Christchurch [1868], CCL PhotoCD 4, IMG0090

Search for Barker, A.C. (Alfred Charles), 1819-1873 in our catalogue.
Barker, Dr Alfred Charles, from An Encyclopaedia of New Zealand, edited by A. H. McLintock, originally published in 1966. Te Ara — the Encyclopedia of New Zealand, updated 22-Apr-09.
Dr A.C. Barker Photographs. A small collection of his photographs at Cantage.
Alfred Charles Barker, 1819 - 1873, Doctor, photographer. A biography at the Early Canterbury Photographers website.
The Late Dr Barker, Star, 21 March 1873, Page 3 (Friday). Death notice in Papers Past.
The Late Dr Barker, Star, 25 March 1873, Page 2. Coverage of the funeral in Papers Past (last item in the column).
Sources