This page explores the life and career of Isabel Button, a champion horse rider and successful trainer whose riding career was cut short by the South Island Trotting Association bringing in a rule that did not contemplate the riding or driving of ladies.
Early life
Bella Button was registered at birth as Isabel (and at her death, mistakenly as Isabella), but known throughout her life as Bella.
Born on 9 October 1863 at Kaiapoi, Bella was the youngest daughter and the fifth child of Robert and Anna Button. Her parents immigrated to New Zealand as newlyweds from Norfolk, England.
Soon after Bella's birth, the family moved south and settled in the Rangitata district. Robert Button bought 800 acres (323.75Ha) of Peel Forest bush, milling the totara and farming the cleared land.
It was at Peel Forest that Bella acquired her love of horses. Her father gave her a white jack donkey that she trained and learned to ride. She had a natural talent with horses.
A horse riding career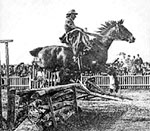 Bella was described as a true pioneer; she had talent for breaking in horses that other experienced horse trainers could not control, and she also drove and rode. One of her earliest successes was a trotter named Star, which won the first race at the inaugural meeting of the Ashburton Trotting Club on 16 October 1890.
Bella owned the horses she raced. Under the racing rules of the day, this entitled her to train, ride, or drive the horses. However she turned up to a race meeting in Christchurch and was informed that she was not allowed to drive.
Two weeks later she drove and came second at a race meeting at the Geraldine Trotting Club but this was to be her last official race.
Women barred from riding or driving
In 1896 the newly-formed South Island Trotting Association brought in a rule that did 'not contemplate the riding or driving of ladies'. This rule remained until 1979.
There is an 1896 article Canterbury Doings on this decision, which states:
At the meeting of the South Island Trotting Association it was decided that the rules adopted did not contemplate the riding or driving of ladies. … I am perfectly certain, however, that Miss Button, the only lady driver I know, could give points to many of the men who are allowed to get into a sulky at some of our meetings. I do not desire to advocate that ladies should be permitted to drive, but it would be interesting to know why they have been barred.
Bella's horse training career continues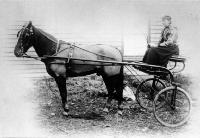 Undaunted, Bella continued breaking in and training horses, and competing successfully in shows and exhibitions. She also hunted at every opportunity and drove her pony teams for recreation. In 1907 she was presented with the 'Champion Lady Rider of New Zealand' trophy.
Bella' s father Robert bought Brooklyn Lodge, a large estate that included a stud farm and racing stables, and also a full-sized race track that was leased to the New Brighton Trotting Club. Queen Elizabeth II Park is now on the land where Brooklyn Lodge stood.
It is reported that some of Bella's male relatives disapproved of her racing activities, but not so her father. Bella was in her element and made full use of the facilities, also becoming an accomplished trainer of steeplechasers. She was the most celebrated horsewoman of her time, and was known throughout New Zealand for her talents on the racetrack and as a trainer.
Life and marriage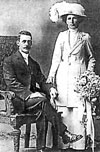 On 8 February 1911 Bella married Augustus Frederick Lipscombe Moore, a 31-year-old Rolleston farmer. He was 16 years her junior and was known to have financial worries. Public opinion was that Gus had married Bella for her money. The marriage did not last long and there were no children. Bella's father Robert passed away in the same year that Bella married.
At the time of her marriage to Gus, Bella had her own home and farm at Bottle Lake, Burwood. She had to fight off bailiffs with a stockwhip when they came searching for her husband. Gus had mortgaged her farm without her knowledge (as was his right in those days) and spent the proceeds. She lost the farm and Gus moved on.
Bella went to live with her younger brother John. He had bought a former ostrich farm and tea gardens in Lake Terrace Road, Burwood, and started poultry farming. Bella eventually managed to buy her own home again in New Brighton.
Cats were also a passion and Bella would train them to successfully jump just like she did the horses. Often she would have a dozen or more, having collected all the neighbourhood strays.
Death
Bella died outside her New Brighton home on 7 February 1921, aged 57 years. She was riding a new horse she intended to take to the upcoming Dunedin Show. The horse reared and Bella fell off, broke her neck and died instantly.
She is buried in the Linwood Cemetery alongside her parents.
Sources
Greenaway, Richard. Bella Button in Unsung Heroines : biographies of Christchurch women written to commemorate Women's Suffrage Year, Canterbury Public Library, Christchurch, 1994
Canterbury Doings, Otago Witness, 17 Mahuru (September) 1896, p. 32.
Mountier, Mary. Button, Isabel 1863 - 1921.  Dictionary of New Zealand Biography, updated 22 June 2007
Greenaway, R. The origins of Queen Elizabeth II Park. The Press, 27 November 1976
Mountier, Mary. Racing Women of New Zealand. Daphne Brassell Associates Press, Wellington, 1993