If Caitlin Doughty had her way, we'd all be dealing with death very differently. Mortician and author of Smoke Gets In Your Eyes she believes we have become too distanced from caring for our dead. Less than 100 years ago, that was what people did, they cared for their own dead. A sold-out Concert Hall audience at The Piano was ready to be convinced.
This was one of those events that barely needed a co-presenter. Not that he did any harm, but the forcefield of Caitlin's presentation was so dynamic that I believe it would have been better to just give her a podium and free rein. She is just bursting with life, engaging, articulate and with the Best Hair At The Festival (a hitherto unexploited literary category.)
Our current means of dealing with the dead is 99% money driven. We have bought into the juggernaut that is the funeral business. In particular Doughty has the embalming business in her cross hairs. Nowadays she believes most embalming is completely unnecessary, expensive and results in corpses that do not even look like the deceased. Yet we continue with this practice - and I use that 'we' intentionally - apparently New Zealand ranks second in the world after the States in embalming statistics.
Not only is this bad for our pockets, but Doughty does not believe it has done our grieving process any favours either. Take children, for example. Doughty herself had a traumatic first encounter with death when she was about eight years old. No one spoke her through it and the spectre of death haunted her for ages. She jokingly refers to her relationship with death as the longest relationship of her life.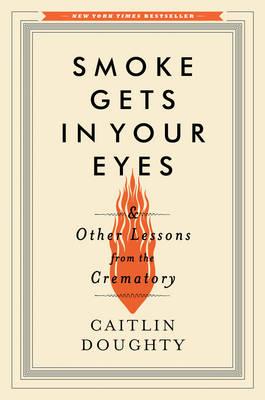 How did it all start? Straight out of a Medieval History degree she 'tricked' her way into employment in a funeral home where she was lucky enough to be given opportunities to do all aspects of the work, like scrape bones out of ovens, fetch bodies from where they had died under bridges and deal with grieving family members. She remembers (and how could a girl ever forget) at the age of 22 being left alone in the morgue to shave her first corpse. She feared she would get this horribly wrong with her wee pink razor and lashings of shaving cream. But bodies she says are just people, only a lot easier to deal with.
What are the alternatives to the expensive over-professionalised approach to death we are currently saddled with? The first hurdle to get over is to believe that the dead body is beautiful just as it is and that there is a sacred quality to caring for the dead. Everyone deserves 'a good death' but to get that you need to think about your own death and you need to talk about death to your family members. A good death is not going to happen all by itself.
The second hurdle is to become better informed about alternatives. Like initiatives to develop the composting of bodies, where instead of burning corpses, they are allowed to rot in an enhanced composting environment and so turn into soil in 6-8 weeks. There is also alkaline hydrolysis which flash decomposes the body and finally there is conservation burial where burials happen in endangered land and conservation areas.
Question time. Oh dear. First two not too bad - we got the afterlife question. Nada for her, said Doughty. She sees her life as a film reel that just runs out eventually and flaps about for a bit before it goes still. God forbid that the afterlife should be peopled by everyone she has ever known - all those dead people lining up to meet her at the Pearly Gates, thanks but no thanks. We got a question on hospital deaths, a euthanasia query and a formaldehyde question (look it up on Google lady!) Then the mic fell into the hands of a man who rambled all over the terrain, couldn't get to a question, and just at the point when you want to trample over other patrons heads and wrench the mic out of his hand to ask your own perfect question, Doughty somehow managed to wrest a possible interpretation from his ramblings out of him.
As for my question, it might not be perfect, but I could have spat it out in nine words:
"Has being a mortician ever affected your love life?"
I believe she would have loved it!
See our photos from the Caitlin Doughty session.
More WORD Christchurch