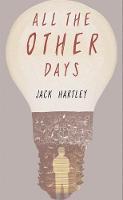 It's not often you get to attend the launch of a book written both by a local debut author but also by someone barely into their twenties. Book publishing is a competitive business and the path to publication can be slow and dispiriting (for those that make it there at all), so it's an impressive achievement at any age.
All the Other Days is a book for teens, first written when Hartley was still a teenager himself. He was encouraged in this by his Shirley Boys' form (and English) teacher who spoke at the launch, as well as by his family. While there were many subsequent years of hard work on the manuscript, interrupted by a degree in Psychology and a foray into teaching, it's a testament to the positive influence the right teacher at the right time can have for many people -- and also how the work of one author is built with the support of the community around them. A glance at the acknowledgements at the back of a book can give an idea of just how big this community can be.

Hartley is clearly passionate about bringing an authentic voice to Young Adult literature, particularly an authentic male voice which he struggled to find in his youth. (Should've asked a librarian.)
Many teens struggle with mental health during adolescence, on top of the usual mix of first love, dealing with school, and potentially problems at home, so being able to connect with characters having a similar experience can be a lifesaver. I have yet to read All the Other Days so can't speak to the validity of the comparison, but the themes remind me of Will Kostakis (by coincidence another author who broke into publishing very young). If you're looking for an exciting new addition to YA fiction then put yourself on the waiting list, because it's looking like All the Other Days is already shaping up to be a big hit.
More blog posts about All the Other Days: