It's DINOVEMBER at Shirley Library!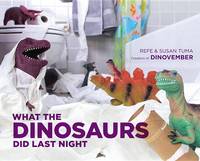 Once upon a (prehistoric) time parents Refe and Susan Tuma decided to surprise their children with scenes of their plastic toy dinosaurs getting up to mischief in their house at night while they slept … one photo a day for the whole month of November, resulting in DINOVEMBER and a book of the dinosaurs exploits: What the dinosaurs did last night: A very messy adventure.
In the spirit of DINOVEMBER, the dinosaurs have come to life at Shirley Library! Come in and check out our display or see our images on Flickr. Bring in a photo to Shirley Library of your dinosaurs doing stuff (with your contact details) and we'll put your picture up on display and you'll go into the competition to win some dino-mo prizes. Prize drawn 1 December.
Check out the What The Dinosaurs Did Last Night book trailer on YouTube:
There's more dinosaur action too. Dinosaur Footprints: A Story of Discovery is a national touring exhibition brought to you by GNS Science and New Zealand Oil & Gas and supported in Ōtautahi by Christchurch City Libraries is on show at Fendalton Library starting Saturday 14th November.
Find New Zealand dinosaurs stuff (non-fiction) in our collection.
Photos
Our Dinovember photos on Flickr: