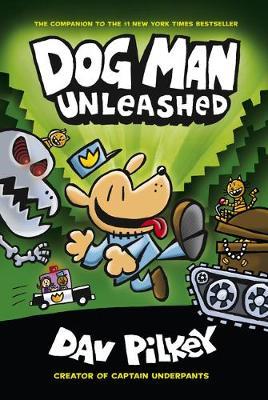 Bow-wowie! Who let the dogs out? The second in the Dog Man series has just been unleashed and a giant Dog Man is on tour across Christchurch City Libraries.
From the creator of Captain Underpants, Dav Pilkey, comes Dog Man: part dog, part man and ALL hero, in his second adventure Dog Man Unleashed.
There's something fishy when Dog Man gets his boss, the police chief, a freaky fish who accidentally ingests 'supa brain dots' instead of fish food and masterminds a (miniature) treasure chest heist. The chief suspect however is Dog Man's nemesis Petey the criminal cat, who gets taken to jail but manages to outmanoeuvre the police by making himself as flat as paper and using origami for evil.
Things turn a bit Keystone Cops and the puns are lots of fun (the fish costs "five bucks plus tacks"). And when Petey uses a phonebooth, mailbox, newspaper, fax machine and a VCR player as weapons, onlooking kids have no idea what these things even are! Watch out for the Obey Spray and the Love Ray whose powers go awry and things turn a bit Jurassic Bark when Dog Man gets thrown the biggest bone ever. Speaking of paper tricks, Pilkey's famous Flip-o-rama animated action is back too. (And don't worry if you haven't read the previous related books - there's a quick recap of Dog Man's genesis at the start of the book).
Parents be warned, as the Chief sums up at the end of the story: "nobody learned anything… there was no atonement... no rebirth... no revelations… and not an ounce of character development or personal growth… it was all just a buncha mindless action and dumb luck" …Perfect! The kids will love it. The silliness in Pilkey's books is so appealing to young children. (My son was so taken by Pilkey's 'Hairy Potty' character in Captain Underpants that one day he cut out menacing eyes and teeth from paper and taped them onto our toilet seat which gave us all a shock when we went to use the loo). Pilkey's comics make a great 'gateway' into reading for kids, especially for those who struggle with reading.
When Dog Man and Captain Underpants author Dav Pilkey last came to Christchurch a year and half ago, he delivered an inspiring presentation focusing on what you can achieve despite learning and behavioural issues such as ADHD and dyslexia, like he had growing up. Dav was keen to point out that learning difficulties are no barrier to being creative or successful. In fact, he mentioned many other notable dyslexics from Einstein and Beethoven through to Keira Knightley and Jamie Oliver. Dav spent a lot of time as a kid drawing comics and making up stories and it was suggested to him by a teacher that he'd have to grow up and couldn't write silly books the rest of his life. He proved them wrong.
Dav's slogan is: "Reading gives you Superpowers."
Get into the libraries a grab a selfie with Dog Man himself.