Whatever your political leanings or beliefs about feminism, there is no denying that Gloria Steinem's life has been an extraordinary one.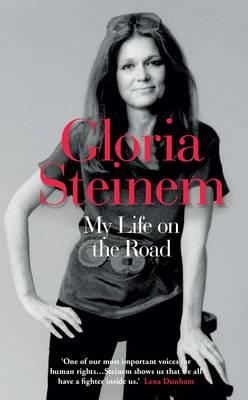 At the Auckland Writers Festival recently she discussed her beliefs, hopes for the future, and life's journey as encompassed in her memoir My life on the road.
The audience was full of feminists of all ages. Teenagers to grandmothers, gathered to hear what she had to say. And as it turned out, to talk to each other about it afterwards. By far, of the all the sessions I attended at this year's festival, this was the one that had the most noticeable sense of community about it, even as disagreements occured - but more on that later.
I arrived early, and was treated to an unexpected glimpse of the woman herself - off to the side in a roped off area in the balcony concourse of Aotea Centre - Gloria Steinem was addressing a small crowd in some kind of reception hosted by the US Embassy.
Later when she walked out on stage to sit down with Nick Barley, The director of the Edinburgh International Book Festival, there were a higher than average number of "whoops" from the crowd, which led me to wonder if the Americans in the audience might be responsible, and sure enough, Steinem herself confirmed that the mayor of Los Angeles was in attendance.
Given the incredible life that Steinem has had, it's difficult to recap that here and this session, even with it running slightly over time, was never going to be long enough.
But here are just a few things that stood out for me the most -
Steinem reading out the dedication from her book which is to the English doctor who provided her with an abortion when she was 22 years old, had just broken off her engagement, and was en route to India. It was illegal at the time and the doctor made her swear to secrecy. This is not a topic that women often discuss this openly and plainly and for that reason alone it made an impression.
Her discovery in India of "talking circles" and the realisation that the ability to talk about terrible experiences is transformative.
All movements start this way, with consciousness raising groups - now we call them book clubs...
Her mild (I can't believe it's only mild) annoyance that, in her eighties,  she's still described by people as an ex-bunny because of the 1963 exposé she wrote on conditions for the women working at the Playboy Clubs. She was a journalist and went undercover for a time as a bunny in order to reveal shocking practices like telling women that they were required to undergo an gynaecological exam in order to serve liquor in New York State.
At my advanced age people still introduce me as an ex-bunny. It has been a blight in some ways... People say "What does she know? She was a bunny".
Her thoughts regarding feminism and the trans community.
Anything that blows up the gender binary is a good thing... It's fundamentally the right thing because it's dispensing with false categories.
On the younger generation of feminists, and the concerns that some mothers have that their daughters aren't sufficiently well educated about feminism.
Women say to me with some alarm, "my daughter doesn't know who you are!"

But does she know who she is? Because that's the whole point.
As you would expect there were some really challenging questions from the audience covering topics as broad as decriminalising prostitution, if feminism is supportive enough of women in non-Western countries with different cultural norms, how to promote feminism at your high school (answer: find something that's sexist and unfair and fight to fix it) and abortion law in New Zealand (over which there was some confusion and disagreement in the audience, but is, as one woman asserted, covered by the Crimes Act 1961.) One woman read out a question which she had rather appropriately written on the back of her birth control prescription!
But probably the best part was that Steinem threw the mic open, not just to questions, but to women wanting to make announcements for upcoming events and "troublemaking meetings". She also encouraged everyone, as they left, to talk to two or three other people and to try and make connections. Because, I suppose, this is how movements that aren't just book clubs happen.
No doubt there was a lot of talking and making of connections in the book-signing queue after the session as it was so long it nearly made it out the door and into Aotea Square. An hour later Steinem was still signing.
Find out more