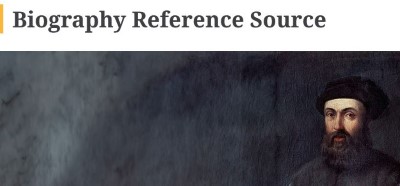 We like to watch other people. We like to hear about other people. There are entire industries based around writing and photographing people who we will never need to meet. It is all probably based on an evolutionary need to distinguish friend from foe but it continues to this day in our everyday habits and the media we watch.
If your needs are for research - or pure evolutionary based interest - then we have the online resources for you in the form of:
Biography Reference Center: (new) What do Angelina Jolie, Confucius, Alexander Fleming and Roger Federer all have in common? They are all here in the Biography Reference Center along with 450,000 others.
Oxford Dictionary of National Biography: includes the 'great and the good' and the 'bad and unusual' people who are now dead having left their mark on the British empire.
Biography in Context: information about more than one million people ranging from George Clooney to Boudicca. There are stories of courage, malice and romance! Sort of an academic Mills and Boons.
All you need to quench your curiosity about people of note you will find in these electronic resources accessible 24/7 from home or in libraries. All you need is your library card number and password/PIN. People watch and search away...
Happy gawking.