Three years ago today Margaret Mahy our favourite award winning author, writer, librarian, mother and grandmother died.
Take time to remember.
Read MM picture books, opens a new window - here's a few to get started with ...
Young Adult, opens a new window reads
Get to know MM ...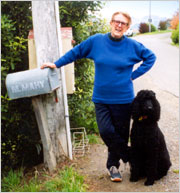 Do what Margaret enjoyed – read, walk around the garden and have a sleep (apparently she could do this quite easily). Don't walk down Cambridge Terrace though, or at least make sure your trousers stay up when you do.
Have a MM lunch - a salad sandwich made with wholemeal bread and cheese and tomato and lettuce and spring onions, and avocado and hard-boiled egg and anything else handy.
I'm going to remember Margaret by driving over the winding hill to Governors Bay and then wandering along the wiggly track at the bottom of the road. I won't be alone. I'm taking a dashing dog, a bubble trouble baby, a gaggle of geese, a couple of mixed-up pirates, a librarian, a three legged cat, a boy with two shadows, a tin can band, a dragon, a lion and of course a witch.
Our procession will be one of nonstop nonsense, opens a new window, full of mischief and mayhem, opens a new window. A magical way to remember Margaret Mahy.
View our set of Margaret Mahy photos on Flickr.