I can say, with absolute certainty, that every good friend I have would love to sit in a cafe, with a good coffee and a tasty little nibble and Vivian Gornick for company. All that intelligence, that wit, that wisdom, that chutzpah coming at you in an accent straight from the Bronx. I did not want this session to end.
Vivienne is the doyenne of the Personal Narrative. This is where you write about your life - everyone knows you are the narrator. But you shift the events around, you change all names other than your own, you play around with years of observation. You create a collage of your life. You do it so well, that even Gornick's best friend - Leonard, a gay man, phoned her after he had read The Odd Woman and the City and asked: "Can I audition for the part of Leonard?"
How does Gornick pull this off? First she walks the streets of New York - she finds this walking very healing. On her walks she observes and: "I talk to anyone who will talk to me." She has done this for decades and collected together all these little anecdotes. She pulls the story out of these situations. It goes like this:
Writing begins with a feeling. Intelligence brings art to that feeling. You need to think, and thinking well is the hardest thing in the world to do. It is not the same as obsessing. When the thinking goes well it flowers, without warning, into something beautiful. And that is when the writing is great.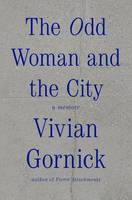 Gornick loves walking, her friends, Feminism, New York and intelligent conversation. She is 79 and lives alone (like 50% of New York's population.) She feels qualified to say that the real perils of old age are not the physical problems which have been given so much attention, but the spiritual and intellectual losses of good like-minded company.
She means conversations like this:
"Fifty years ago we would have been our parents. Who are we now?"

"They passed" said Leonard. Fifty years ago you entered a closet called 'marriage.' In the closet was a double set of clothes, so stiff they could stand up by themselves. A woman stepped into a dress called 'wife' and the man stepped into a suit called 'husband.' And that was it. They disappeared inside the clothes. To-day we don't pass. We're standing here naked. That's all."

"I'm not the right person for this life," I say.

"Who is?" he says, exhaling in my direction.
I hope Gornick and Leonard will still be having conversations like this when they get really old. Actually, I hope I am still having them too.
Find out more