At 4:35 am on Saturday 4 September 2010, the Canterbury region was rocked by a magnitude 7.1 earthquake. The earthquake was based near Darfield, about 40 kms west of Christchurch. Many buildings were damaged, but only one person died and few people were injured.
What happened?
At 4:35 am on 4 September 2010, there was a magnitude 7.1 earthquake. It was based near Darfield but felt all over the South Island and in the lower part of the North Island. It was based on the Greendale fault, which is a newly discovered fault. It has been known as the Greendale, Darfield, Rolleston, September or Canterbury Earthquake.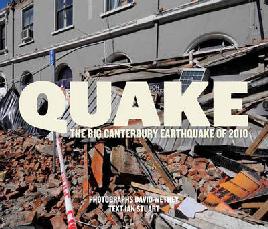 One person died from a heart attack, possibly caused by the shock of the earthquake, but there were no other deaths. Two people were seriously injured by falling buildings. Because this earthquake happened at night, when most people were in their beds, there were not many people injured by falling buildings or landslides. Lots of brick chimneys fell off houses and many others needed to be removed as the earthquake had made them unstable.
From 4 September 2010 until 4 September 2011, there were around 9,000 aftershocks and earthquakes. Some of these were very strong and caused more damage to buildings and land. On Boxing Day (26 December 2010) there was a large aftershock of the September earthquake. It was magnitude 4.9 and 12 kms deep. It caused more buildings to fall and cut power and water to many people.
The next major earthquake was on 22 February 2011 at 12:51pm and 185 people lost their lives.
Other events and outcomes
Railway lines buckled and had to be repaired before trains could use them.
Schools were closed for about two weeks after the earthquake. They were closed for a variety of reasons, such as damage to school land and buildings, lack of power or water, transport difficulties and frequent aftershocks.
Power, water and phone lines were all affected. Most people in Christchurch got their power back on in the few days after the quake, but some people had to wait longer, especially those in rural areas. For a week after the earthquake, everybody had to boil their tap water before they could use it. In the Waimakariri District, people had to keep boiling their water for longer.
Some buildings were damaged as far away as Timaru and Dunedin.
Soil liquefaction caused a lot of problems with flooding, damaging buried pipes and building foundations. It was worst in Kaiapoi, Bexley and other eastern suburbs. Liquefaction happens when shaking pushes underground water upwards, making solid ground behave like quicksand.
Find out more about the September earthquake
Disasters