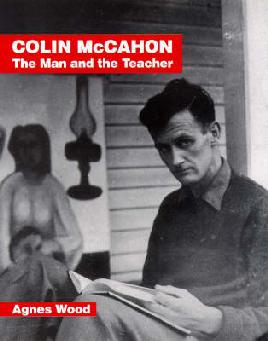 Colin McCahon is regarded as a major Australasian modernist painter. His works, especially later works with their scale and striking written texts and numbers (often Biblical texts) have iconic status in New Zealand. Perhaps the most famous of his works, Victory Over Death 2, was donated to the Australian National Art Gallery in 1978 by the New Zealand Government. The Prime Minister at the time, Robert Muldoon, uttered the immortal words I didn't know we disliked the Australians so much when seeing what was being donated.
McCahon was born in Timaru in 1919 and educated in Oamaru and Dunedin. Following art school, he pursued the life of a painter supporting himself and his family with seasonal work, gardening, labouring and later as a curator at the Auckland Art Gallery.
McCahon in Christchurch
From 1948 to 1952 McCahon and his family lived in Christchurch in a rented house in Barbour Street, Linwood. Christchurch was not a particularly happy time for McCahon and his family, but they had a handful of close friends and supporters who purchased his work, including the artist Doris Lusk, and the City Librarian Ron O'Reilly. Friends and supporters later got together to purchase Tomorrow will be the same but not as this is for the Robert McDougall Gallery. The Gallery rejected the gift but after much controversy, in 1962 it eventually became the first work by McCahon in the Gallery's collection. At the time a member of the city council, councillor Stillwell, described it as a figurative monstrosity which should not be hung in our beautiful gallery. It is only on hardboard, not even on canvas. There is nothing there but an absolute blackout. The Press, 18 December 1962.
The gallery now has 24 works by McCahon, including a number which were originally purchased by Ron O'Reilly for the Canterbury Public Library for loan to library patrons. These included Kauri Tree Landscape, 4 Northland drawings, Red and Black Landscape and Van Gogh: Poems by John Caselberg. Find out more about Ron O'Reilly and the library art collection.
In 1997 intruders broke into the centre and stole the mural. The painting remained missing for 15 months. It was finally recovered after negotiations between wealthy Auckland art patron Jenny Gibbs and Tuhoe activist, Tame Iti. After further restoration the mural returned to the visitors' centre but in January 2008 it was shifted to the Auckland Art Gallery because of concerns about serious building faults to the Aniwaniwa Visitor Centre's upper levels where the mural was housed.
McCahon's Art at This Time
The website, McCahon House, writes about McCahon's art during his time in the South Island as follows:
In the Christchurch years (1948-52) McCahon continued with the mixture of biblical narratives and landscape paintings he had practised in Nelson. Six days in Nelson and Canterbury (1950) is one of the best-known works of this period, nominally a landscape painting but with religious connotations deriving from the Genesis-reference of its title, while the streak of blood-red at the centre of the image alludes to sacrifice and redemption. The traditional themes of religious art — the annunciation, the mother and child, the crucifixion, the deposition, the empty tomb — continued to occupy him, There is only one direction (1952) being one of the last completed before he finished the series prior to his departure for Auckland.
On building bridges: triptych (Auckland Art Gallery 1952) is McCahon's last and greatest interpretation of the landscape of Canterbury, introducing an element of human culture in the steel superstructure of the bridge through which the landscape is viewed and with which it coalesces.
After Christchurch
Colin McCahon moved to Auckland in 1953 to take up a job at the Auckland Art Gallery. He worked there until 1964, curating and writing about exhibitions. He was eventually promoted to the position of custodian and deputy director. He also taught night classes and summer schools at the Gallery. He and his family settled in a house in the Titirangi bush overlooking the Manukau Harbour, which is now preserved and maintained in honour of McCahon. It is open to the public and is provides a studio and residence for an artist in residence scheme.
In 1960 he moved back into central Auckland and settled in Grey Lynn. In 1964 he took up a position as a lecturer at the Elam School of Fine Art which continued until 1971 when he left to become a full-time painter. By this time there was wider and growing appreciation of his stature as an artist. He continued to paint and exhibit although his struggle with alcoholism lead to increasing health problems and finally dementia. He died on May 27, 1987.
Colin McCahon Resources
Online Resources
Information about his life and work, and the house where he lived in Titirangi which is now open to the public.
Database and image library of McCahon works compiled by the Colin McCahon Research and Publication Trust.
Information from the Christchurch Art Gallery about McCahon exhibitions.
Wikipedia entry about Colin McCahon.
Entry in the Dictionary of New Zealand Biography.
From Christchurch City Libraries resources for children – Famous New Zealanders series.
Online gallery of McCahon works in the Forrester Gallery in Oamaru. The collection is primarily a gift from McCahon's sister and brother-in-law and includes early work, as well as paintings of North Otago and the Otago Peninsula.
Library Resources
A selection of videos, books and exhibition catalogues reflecting his importance in New Zealand art.
Many of these items are held only at the Christchurch Art Gallery library. The library is open by appointment only and can be accessed by bona fide art history researchers and students.
Documentary about Colin McCahon's life and work. Made for TVNZ in 2006.
Mary Woodward was an active member of the Christchurch Campaign for Nuclear Disarmament. This letter was found among CND papers.
15 drawings originally for the poet Charles Brasch, published by the Hocken Library.