You can borrow audiobooks — also known as talking books — from our collection of fiction and non-fiction titles. Audiobooks come in several different formats to allow playing on difference devices: eAudiobooks, CDs, MP3 CDs, tapes and Playaway audiobooks.
Audiobooks
A subject search for Talking books will display everything we have in CD, cassette and MP3 CD format.
You can restrict your searches of our catalogue to only show results for a talking books by using the format drop-down box on the catalogue search page.
To find MP3 CD audiobooks, keyword search using MP3 CD.
View the newest additions to our collection.
eAudiobooks
View the newest additions to our eAudiobook collections.
OverDrive
OverDrive is a free digital media platform which allows library members to download audiobooks and transfer them to MP3 players including iPods. Books self-expire on their due date.
BorrowBox
BorrowBox powered by Bolinda Digital provides access to hundreds of downloadable MP3 fiction and nonfiction eAudiobooks for adults, young adults and children.
uLibrary eAudiobooks
uLibrary includes Isis Publishing, Soundings, Story Sound and Assembled Stories eAudiobooks.
Playaway — borrow the book with the player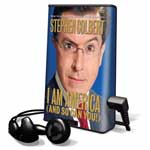 A Playaway is a small, self-contained player which has one book on it. They are very easy to use — just press play. Each Playaway:
Contains an entire book.
Fits in your pocket.
Comes with an automatic bookmark function.
Has a universal headphone jack.
To find Playaway audiobooks, keyword search using Playaway or subject search by Audiobooks.